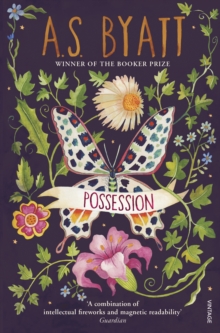 Possession : A Romance
Paperback
Description
Possession is an exhilarating novel of wit and romance, at once a literary detective novel and a triumphant love story.
It is the tale of a pair of young scholars investigating the lives of two Victorian poets.
Following a trail of letters, journals and poems they uncover a web of passion, deceit and tragedy, and their quest becomes a battle against time.
Information
Format: Paperback
Pages: 528 pages
Publisher: Vintage Publishing
Publication Date: 07/02/1991
ISBN: 9780099800408
Free Home Delivery
on all orders
Pick up orders
from local bookshops
Reviews
Showing 1 - 5 of 14 reviews.
Previous | Next
Review by wendyrey
16/06/2015
Another book within book novel.I found some sections impenetrable and there are big chunks of poetry I simply skipped. The best part was the romance set in the present while the Victorian letters between lovers was tedious.
Review by Niecierpek
16/06/2015
It's a superb book. There are so many layers to it that it would be impossible to deal with all of them in a short review. At the plot level, it is a story of two contemporary literary scholars who discover a secret love correspondence between two Victorian poets and pursue it in a covert quest. At the literary level, it is a great mixture of narrative, literary criticism and different writing forms including letters, stories, and poems all packed into a detective story convention. Words have multiple meanings, there are myths interwoven into the plot, symbols and comments on reading and writing. All this is wrapped in beautiful writing. A real delight to read.
Review by Lexicographer
16/06/2015
Slowly, slowly I made my way into "Possession." I wasn't sure if I would make it through the book, when I started. All those poems. The dry world of academe. *British* academia, no less. Then, about a third of the way into the book, I realized I didn't want to put it down. I was completely possessed myself, with the need to get to the end of the story. Of Ash and LaMotte's story, of Roland and Maud's story. In this way, I became a part of the story, no different from the characters in the urge to follow the narrative, to find meaning. Byatt has written a book about books, and a book about readers, and a book about obsession. In doing this, she has written a book that seems to me, as a reader, to really be about what it is to be human.
Review by MyopicBookworm
16/06/2015
It is not hard to see why this book was considered one of the best novels of its time. It is densely complex, yet without being inaccessible, and I enjoyed it very much.<i>Possession</i> is subtitled "A Romance", but actually it is two romances, as well as a mystery and (in a quiet, academic sort of a way) an adventure story. For the first part of the book, the 19th-century romance is told indirectly through letters and diaries, forming a kind of epistolary novel-within-a-novel which is gradually discovered by the 20th-century characters, as they also gradually discover the nature of their own relationships. The effectiveness of this indirectness is such that, when the narrative viewpoint shifted at the beginning of chapter 15, I was initially disappointed. However, the author's narrative led me on, and persuaded me that there is a benefit to the reader in knowing the tale as the later characters cannot know it. By the time I was about 60 pages from the end, I was tempted to abandon my measured reading in short instalments and simply gallop to the end. The final climax is quite exciting, and the resolution satisfying. This is a book that will undoubtedly need reading again and again. Not least among the reasons for this is the need to assimilate the embedded poetry (which, probably like most readers on a first reading, I rather skimmed over). It is an extraordinary feat of almost Tolkienian magnitude to feign the work of not one but two fictional Victorian poets (one almost Tennysonian in grandeur, the other bringing echoes of Emily Dickinson), and to do so at considerable length, with verse which makes symbolic and thematic allusion to the novel's plot as well as to relevant strands of 19th-century philosophy and mythography. (Incidentally, Byatt has made me want to investigate the writings of Vico.) This exploration of the 19th-century mind is is accompanied by (partly but not wholly) satirical references to the similar obsessions of the 20th-century intellectual world, especially feminist thought and its attempts to grapple with the assumptions and prejudices of 19th-century literature. As I write, it also occurs to me that a reading of the letters of Abelard and Heloise might usefully inform a re-reading of the novel. I look forward to revisiting this book.MB 27-ii-2009
Review by thorold
16/06/2015
Re-reading, probably for the third or fourth time, I realised that I'd forgotten what a funny book this is. I remembered, of course, the tremendous technical achievement involved in producing enough pastiche Victorian poetry and miscellaneous documents to convince us of the existence of the two invented poets, and the obviously doomed Victorian love affair, but I was surprised by just how much fun Byatt has in the contemporary story in mocking the idiocies of the world of Eng Lit in which she has her own professional existence. The story is explicitly presented as a romance: we are not asked to take either the modern story or the Victorian one seriously. Roland and Maud are conscious of being characters caught up in a plot, and of knowing how such plots are supposed to end, but also knowing that endings are a literary device. Byatt reminds us that the poetry is all pastiche, and that writing in the styles of other times is a common literary device: we get a bit of genuine Browning at the beginning, Cropper's awful biography calls Ash "the great ventriloquist", and there is the lovely vignette of Blackadder as a student in an F.R. Leavis dating class (which must surely be autobiographical).There's quite a bit of discussion of the role of women (modern as well as Victorian) in the book, some of it playful and some more serious. We also get a certain amount on Victorian views of science and religion, usually contrasted with the Breton folk tradition and Norse mythology that La Motte and Ash mine for themes for their poetry. It's all very cleverly presented: as a reader, you never have the feeling you are being lectured at, or spoon-fed with necessary information, yet this is clearly a book that you can enjoy without being any sort of expert on mid-Victorian literature. You could read it as a didactic work, if you wanted to: it does illustrate in a clear, painless way some of the classic debates of literary criticism (How far should biographical knowledge influence our reading of the text? Can we ever know enough about the author's life? What if we know too much...?). But it is primarily an entertainment. Better to read it for pleasure than to poke around too much in the mechanism, otherwise we risk turning into Mortimer Cropper ourselves.