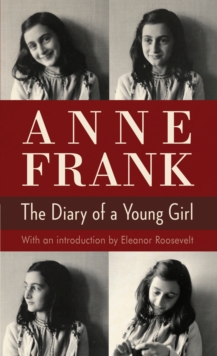 ANNE FRANK THE DIARY OF A YOUNG GIRL
Paperback
Information
Format: Paperback
Publisher: US IMPORTS
Publication Date: 01/07/1993
Category: Biography: general
ISBN: 9780553296983
Free Home Delivery
on all orders
Pick up orders
from local bookshops
Reviews
Showing 1 - 5 of 91 reviews.
Previous | Next
Review by ursula
16/06/2015
Not much to say about this one that hasn't already been said a thousand times. A remarkable insight into both what it was like to be Jewish and in hiding during WWII and what it was like to be a young girl trying to grow up under such dire circumstances.
Review by celestialfingerpaint
16/06/2015
When people talk about the holocaust, they usually talk about the concentration camps. While it's true that Anne Frank's life was ended in one, that's not what this book is about. Her diary shows us things we often don't think about. It shows us the daily life of people who went into hiding, and it also shows us the thoughts and feelings of a girl growing up in that time. Anne Frank wasn't really any different than girls who are now the age she was then. She had many of the same fears and dreams. Because this is her actual diary, it puts a face on the people who suffered during that time. It brings them out of the pages of history books and makes them as real as our own families.
Review by MissLizzy
16/06/2015
This diary contains some of the most poignant observations and prayers that I have ever read. Even though Anne is long gone, her soul is contained within the pages of her diary--she never knew, or even dreamed or thought, she she would have such a profound effect on people all over the world, forever. There are a million and one accounts of the Holocaust, and there is even a major museum dedicated solely to it, but nothing in the world makes one cry so hard as to hear the effects of such a terrible thing from the diary of a young girl.
Review by multifaceted
16/06/2015
To be brutally honest, I did not like "Anne Frank: the Diary of a Young Girl" that much. Sorry. There are so many books about the Holocaust (yes, the event is a <b>capitalized</b> word—the lowercase word is something different) out there, and this was not the first I read. As a result, perhaps, I think there are a lot of books that can, and do, do better than this one to make the events "hit home". It found it somewhat uneventful; but of course, my life would be uneventful, too, if I lived in an annex and could barely ever make contact with the world! I can't blame her for that, of course. Some of the events that did take place involved fights or Anne getting mad at her mother or sister, which I found to be kind of trivial. Maybe part of the "blahness" is due to editing in order to make the book more acceptable? I notice there is a "newly" translated "definitive" edition out there, which could be different than the version I read.I also found it extremely girly—I can't deny that Anne Frank was example of a normal girl in a rather unique situation, so most women can more easily identify, I suppose. And I can't deny that she was very insightful and smart. I, however, was never really into the whole pouring-my-heart-out-into-a-diary kind of thing, nor much "inspirational" writing. As I mentioned, I had read similar insightful stories about the Holocaust before (and shortly after) this one, so her maturity didn't jump out at me and seem so profound. I'm sure this also contributes to why I couldn't identify with/ didn't like this book so much.It's good if you want something "inspirational", and want to learn a bit about life in the Holocaust without reading about too many of the death facts, politics, whatever (naturally, being a kid in an annex, she was sheltered from much of it). Personally, I like something that has more of a mix of the two ends.
Review by ChelseaB-ley
16/06/2015
This is a great book. I read it in 7th grade (I was 12 by the way). It is a wonderful diary written by a real girl about real situations. This is a great way for girls to learn about the Holocaust. The book is a little long, but if you enjoy reading you will enjoy this book. It is also depressing so it's probably not a good book for some kids to read.