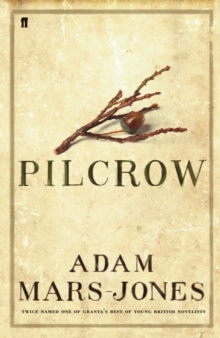 Description
Meet John Cromer, one of the most unusual heroes in modern fiction.
If the minority is always right then John is practically infallible.
Growing up disabled and gay in the 1950s, circumstances force John from an early age to develop an intense and vivid internal world.
As his character develops, this ability to transcend external circumstance through his own strength of character proves invaluable.
Extremely funny and incredibly poignant, this is a major new novel from a writer at the height of his powers.'I'm not sure I can claim to have taken my place in the human alphabet...I'm more like an optional accent or specialised piece of punctuation, hard to track down on the typewriter or computer keyboard...'
Information
Format: Hardback
Pages: 352 pages
Publisher: Faber & Faber
Publication Date: 01/04/2008
ISBN: 9780571217038
Other Formats
Paperback from £7.69
EPUB from £6.39
Free Home Delivery
on all orders
Pick up orders
from local bookshops
Reviews
Showing 1 - 1 of 1 reviews.
Review by presto
16/06/2015
John Cromer suffers with Still's Disease which leaves him more than partially paralysed, this is his account of the onset of the disease and how he copes with the early years of his life. Written as a fictional autobiography it has the ring of truth about it, and not just because of the inclusion of real people and places (one has to be careful here, while some people appear as themselves, other sometimes well known people are re-invented or re-cast, and the same applies to places!). But it is the keen observation, attention to detail and wonderful characterisation the makes this convincing.John relates his life in very short episodes which often follow on from one another, but he can also digress into other areas. He is an inquisitive, intelligent boy with ambitions often beyond his physical capabilities. He is honest in the telling of his story, and it is this honesty that enables one to forgive him his often selfish behaviour, along with the humour that accompanies his candour. For ultimately one cannot help but fall in love with John, he does have many redeeming features, and he frequently expresses remorse over his actions, also the concern he shows for and the comradeship he shares with his younger brother is a delight.Compounding John's difficulties is the gradual onset of puberty and awareness of the effect of having so many lovely boys around him, he needs to explore but that is not so easy for someone in his situation.In Pilcrow John takes us up to the age of around sixteen (Cedilla picks up where Pilcrow leaves off I believe, and on the strength of the former I have ordered the latter).I initially found this slow and a little uninvolving and as a result somewhat daunting as I looked at the seemingly vast number of pages still to be read, but it is well worth sticky with for one will be amply rewarded. I found it soon to be a thoroughly engrossing read, one of those books that is hard to put down and ultimately rather than seeming too long I felt it ought to continue (hence my delight in finding there is a sequel, and a third in the pipeline?).I must also mention, as it is far from insignificant, the quality of the writing here. Adam Mars-Johnson clearly has a love of English (as dose his character John), and the writing here amply demonstrates that love not just in the beauty and correctness of the writing but in some of the little diversions that delve into language.