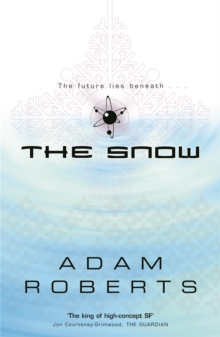 Description
The new Adam Roberts novel is a story of global apocalypse, old hatreds and new beginnings.
It is his best novel to date.And this is how the world will end ...'The snow started falling on the sixth of September, soft noiseless flakes filling the sky like a swarm of white moths, or like static interference on your TV screen - whichever metaphor, nature or technology, you find the more evocative.
Snow everywhere, all through the air, with that distinctive sense of hurrying that a vigorous snowfall brings with it.
Everything in a rush, busy-busy snowflakes. And, simultaneously, paradoxically, everything is hushed, calm, as quiet as cancer, as white as death.And at the beginning people were happy.'But the snow doesn't stop.
It falls and falls and falls. Until it lies three miles thick across the whole of the earth.
Six billion people have died. Perhaps 150,000 survive. But those 150,000 need help, they need support, they need organising, governing.And so the lies begin.
Lies about how the snow started. Lies about who is to blame. Lies about who is left. Lies about what really lies beneath.
Information
Format: Paperback
Pages: 368 pages
Publisher: Orion Publishing Co
Publication Date: 11/08/2005
ISBN: 9780575076518
Free Home Delivery
on all orders
Pick up orders
from local bookshops
Reviews
Showing 1 - 3 of 3 reviews.
Review by Noisy
16/06/2015
Hmmm. I <i>get</i> inconclusive, open, indeterminate, unresolved. It leaves room for the imagination. I think I get the unreliability of reportage from multiple points of view. The mind plays tricks, and reports what is useful to know to deal with a known situation, unless tainted or diseased. Unfortunately, I don't get this story. I was drawn along by the narrative - presented as 'documents' recording first person testimonies or legal and other reports - until it flagged alarmingly in the middle section. It picked up at the end, but ended on an ambiguous note that, for me, left it flapping in the breeze. If there had been a definite resolution, then I'd have forgiven the wooliness of the substance of the centre section. But no, we are presented with a set of choices and left to make up our own mind. I didn't care enough to pick one of the options. Nicely written, however it didn't do enough for me. I know that Roberts is one of the shining lights of recent years, but <i>Salt</i> doesn't stand out in my memory either, and on the basis of this work I'll be spending my money elsewhere in the future.
Review by RobertDay
27/08/2015
As a malapropistic sports commentator might say, this is a book of three halves.We start with a catastrophe that creeps up very quietly on us. It starts snowing - and then doesn't stop. But a Cosy British Catastrophe this isn't. Our Heroes don't retreat to a country house in the Cotswolds and start to re-establish society. Instead, a handful of survivors eke out an existence in the ruins, sometimes against all the odds. Things look bleak, mainly because they are.But then, there is a rescue; and we are propelled into 'Handmaiden's Tale' territory. There are efforts to establish a New World Order on top of the snow, which is now a number of miles thick across the globe. In the middle of this tale, the pov character changes, and we get a confession in the form of a flashback, and that seems to concentrate on a different kind of "snow" altogether. Are we perhaps in the Realm of Allegory?But again there is a shift and there is an explanation, of sorts. This section is reminiscent of Thomas Disch's 'The Genocides', except the outcome is less terminal for the human race.I started out enjoying the book, partly because the protagonist is located in a section of London that I know somewhat, and so I identified with the setting until the world was so completely transformed. By then, I was identifying well with the main character. The central section, with its 'Handmaiden's Tale' theme, I felt was a bit too long and a bit too heavy-handed in the demonisation of the military mindset and a certain sort of American establishment figure. But the writing carried me through this, and the description of the landscape was reminiscent of Roberts' first novel, 'Salt', which I admired precisely because of its vivid depiction of a majestic, terrible wasteland.The denouement, and the outcome in the final segment of the novel, was ingenious, different and (just for a change) probably not all a delusion.The presentation of the narrative, via the use of official documents and confessions, presented as though in their native format, set a particular set of expectations running; and some of these are red herrings. For me, they added to the sense of reality that the novel projects.So, an uneven read, and not an easy one, but one that is thought-provoking. I got on better with this than other Adam Roberts novels.
Review by elmoelle
16/06/2015
Just when i would think that I had a handle on what was going on in this science fiction novel, all of a sudden it would change and become a different kind of apocalypse. It begins with Londoner Tira experiencing the vast snow fall that blots out all of her normal life and then making her way to an office building where she lives with a man who has similarly become a refugee from the snow. Then, when it seems as though this is a pretty standard end of the world narrative, Tira is rescued from below the snow and brought above ground to where a militaristic government has taken command of the remaining population. Then, just when I became confident that I was reading a book that feel into the science fiction tradition of 1984, about what happens when a government attempts to completely control the population, there was yet another twist that morphed the story into a third kind of science fiction. I thought that these twists and turns made for a really interesting and thought provoking story. <br/>The book is written in the form of narratives which have been released by the government and various names of characters are redacted. I thought this made for an interesting reading experience. At times it was aggravating because it took away from the flow of the story, but then at other times it made the story feel more authentic. <br/>I would recommend this book to anyone who likes a good adventure/science fiction story as well as to anyone who is interested in the links between spirituality and science fiction.
Also in the Gollancz S.F. series | View all