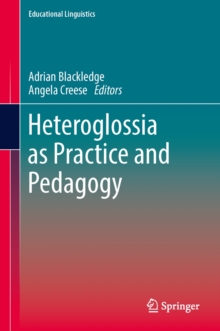 Heteroglossia as Practice and Pedagogy
Hardback
Description
This volume presents evidence about how we understand communication in changing times, and proposes that such understandings may contribute to the development of pedagogy for teaching and learning.
It expands current debates on multilingualism, asking which signs are in use and in action, and what are their social, political, and historical implications.
The volume's starting-point is Bakhtin's 'heteroglossia', a key concept in understanding the tensions, conflicts, and multiple voices within, among, and between those signs.
The chapters provide illuminating accounts of language practices as they bring into play, both in practice and in pedagogy, voices which index students' localities, social histories, circumstances, and identities.
The book documents the performance of linguistic repertoires in an era of profound social change caused by the shifting nature of nation-states, increased movement of people across territories, and growing digital communication. "Our thinking on language and multilingualism is expanding rapidly.
Up until recently we have tended to regard languages as bounded entities, and multilingualism has been understood as knowing more than one language.
Working with the concept of heteroglossia, researchers are developing alternative perspectives that treat languages as sets of resources for expressing meaning that can be drawn on by speakers in communicatively productive ways in different contexts.
These perspectives raise fundamental questions about the myriad of ways of knowing and using language(s).
This collection brings together the contributions of many of the key researchers in the field.
It will provide an authoritative reference point for contemporary interpretations of 'heteroglossia' and valuable accounts of how 'translanguaging' can be explored and exploited in the fields of education and cultural studies." Professor Constant Leung, King's College London, UK. "From rap and hip hop to taxi cabs, and from classrooms to interactive online learning environments, each of the chapters in this volume written by well-known and up-and-coming scholars provide fascinating accounts drawing on a wide diversity of rich descriptive data collected in heteroglossic contexts around the globe.
Creese and Blackledge have brought together a compelling collection that builds upon and expands Bakhtin's construct of heteroglossia.
These scholars help to move the field away from the view of languages as separate bounded system by providing detailed examples and expert analyses of the ways bilinguals and multilinguals draw upon their linguistic repertoires for effective and meaningful communication." Wayne E.
Wright, University of Texas at San Antonio, USA.
Information
Format: Hardback
Pages: 327 pages, 7 Illustrations, color; 15 Illustrations, black and white; XII, 327 p. 22 illus., 7 illus
Publisher: Springer
Publication Date: 18/12/2013
Category: Sociolinguistics
ISBN: 9789400778559
Also in the Educational Linguistics series | View all