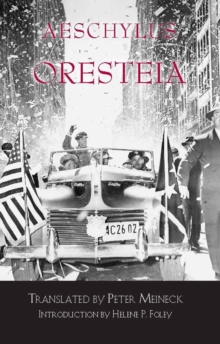 Description
Meineck's translation is faithful and supple; the language employed is modern without betraying the grandeur and complexity--particularly the images--of the Aeschylean text.
After reading this translation, one has but one further wish: to see it and hear it at Delphi, Epidaurus or Syracuse. --Herman Van Looy, L'Antiquite Classique
Information
Format: Paperback
Pages: 224 pages
Publisher: Hackett Publishing Co, Inc
Publication Date: 15/09/1998
Category: Plays, playscripts
ISBN: 9780872203907
Other Formats
Paperback from £3.99
Hardback from £7.79
Paperback / softback from £5.85
EPUB from £1.07
PDF from £10.44
Free Home Delivery
on all orders
Pick up orders
from local bookshops
Reviews
Showing 1 - 1 of 1 reviews.
Review by clytemnestra215
16/06/2015
I definitely liked Aeschylus's style better than Euripides' (in "Iphigenia at Aulis"). There's something that he did that brought me right up close, face to face with each character. He made things intimate. It was as if I was having a conversation with the guard at the beginning, and with the herald, with the chorus, with Clytemnestra and then Agamemnon and definitely with Clytemnestra again. When she ranted on about how she was right to kill her husband, it was as if I was standing over her shoulder, nodding away. And then, when the chorus rebuked her and told her why she was abhorrent and should be exiled, I moved next to them and was nodding again. And then back again. And again. I don't know what it was. Perhaps it was the depth of the characters. I thought that they had much more soul than in "Iphigenia at Aulis." Aeschylus paid attention to each character, whether they were main or not.There was also a kind of sly wit in the Agamemnon which was lacking in Iphigenia. I won't say that I laughed out loud, because I didn't. No chuckling was involved. It just made me smile; the subtle turns of phrase which he peppered all around the play. Definitely amusing, to say the least.Agamemnon is surely my favorite of the three in the <i>Oresteia</i>. I didn't really like "Libation Bearers," actually. Agamemnon simply seemed to have more drama and problems in it. Libation Bearers had people whining, 'Woe is me! Whatever am I to do?' with Big Good Orestes killing the Evil Villains With No Heart in the end. It was too predictable and, to me, didn't even come close to the depth of Agamemnon, with its turns and twists and deceit and intimate wishes for personal...personal something. Saving. It sounds bad to say that. Perhaps I can come about this a different way.In Agamemnon, every single character seemed involved and (to me) interesting. We could peer into their soul and see who they were, and why they should be spared from harm. The Libation Bearers seemed too two-dimensional. I thought that it was all right, as far as these things go, but the others which I've read before were much more satisfying.I knew that Clytemnestra was going to kill Agamemnon (as the play-goers in Athens would have known, who went to see it performed for the first time). I was still gripped by the tension. In Libation Bearers, that tension wasn't there for me. Orestes comes back and saves the day by being male and being able to kill two women. (If we're assuming that Aegisthus is female in marrow.) Granted, two harmful women who killed his father, but the issue of Iphigenia wasn't addressed at all, not even by Clytemnestra.I think it was just of Orestes to kill Clytemnestra, but only because it seemed that Clytemnestra had done wrong in the way she managed the people. She misused them, her own daughter included. Her killing Agamemnon wasn't *right*, but it wasn't all that terrible (for fiction), considering Iphigenia.I suppose I just rooted a lot more for Clytemnestra than Orestes. <i>"Bring me my man-killing axe!"</i> If that doesn't say it all for Clytemnestra, I don't know what does."Eumenides" was ok. I loved the part where Clytemnestra yells at the Eumenides/Furies for sleeping on the job. The whole play is sort of a let-down at the end, though, with its deus ex machina. Meh. Anyway, the four stars I gave for the <i>Oresteia</i> are almost completely for "Agamemnon." It is my favorite Greek play, and there is much delight to be found in it. And blood. Lots and lots of blood and massacre.