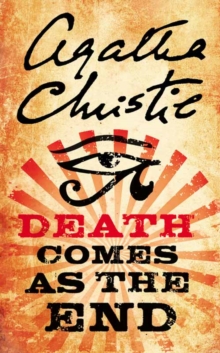 Death Comes as the End
Paperback
Description
A novel of anger, jealousy, betrayal and murder in 2000 BCIt is Egypt, 2000 BC, where death gives meaning to life.
At the foot of a cliff lies the broken, twisted body of Nofret, concubine to a Ka-priest.
Young, beautiful and venomous, most agree that she deserved to die like a snake.Yet Renisenb, the priest's daughter, believes that the woman's death was not fate, but murder.
Increasingly, she becomes convinced that the source of evil lurks within her own father's household.As the wife of an eminent archaeologist, Agatha Christie took part in several expeditions to the Middle East.
Drawing upon this experience and exhaustive research, she wrote this serial killer mystery laid in Egypt 4000 years ago.
Information
Format: Paperback
Pages: 336 pages
Publisher: HarperCollins Publishers
Publication Date: 15/10/2001
Category: Classic crime
ISBN: 9780007128679
Other Formats
Hardback from £9.85
Paperback from £7.15
CD-Audio from £13.29
EPUB from £2.99
Free Home Delivery
on all orders
Pick up orders
from local bookshops
Reviews
Showing 1 - 2 of 2 reviews.
Review by riverwillow
16/06/2015
Murder in Ancient Egypt. Its an interesting deravation from Poirot, Miss Marple and the others. The eventual solution is a complete surprise as well.
Review by smik
16/06/2015
I think I have rarely enjoyed a Christie title more than this one. But I don't remember ever reading it before and that may be the clue to why it felt so fresh.I don't remember whether Christie ever gave a historical setting like this to any other novel.She tells us in an "author's note" at the beginning where the plot and setting came from. The action of this book takes place on the West bank of the Nile at Thebes in Egypt about 2000 BC. Both place and time are incidental to the story. Any other place at any other time would have served as well: but it so happened that the inspiration of both characters and plot was derived from two or three Egyptian letters of the XI Dynasty, found about 20 years ago by the Egyptian Expedition of the Metropolitan Museum of Art, New York, in a rock tomb opposite Luxor, and translated by Professor (then Mr) Battiscombe Gunn in the Museum's Bulletin.When Imhotep returns to his family in Thebes with his new concubine Nofret he unleashes forces for evil within the family that have lain dormant for years.As the scribe Hori says to Renisenb, recently returned to the family home after the death of her husband, and having been away for 8 years: You do not understand, Renisenb. There is an evil that comes from outside, that attacks so that all the world can see, but there is another kind of rottenness that breeds from within–that shows no outward sign. It grows slowly, day by day, till at last the whole fruit is rotten–eaten away by disease.When Imhotep leaves again for three months, leaving Norfret behind, the forces are unleashed and the murders begin. One after another, family members whom the reader suspects of the first murder are themselves attacked or killed, until there are so few left to suspect. And then Christie plays her trump card.I saw a fellow blogger comment the other day about how this was the best Agatha Christie title she had ever read, and I can understand why. The plot and whodunnit aspects are engrossing.