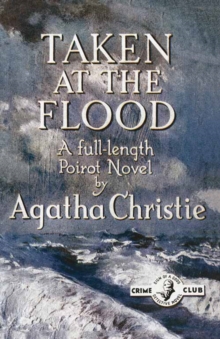 Taken at the Flood
Hardback
Part of the Poirot series
Description
A man returns from the dead, and the body of a mysterious stranger is found in his room...A few weeks after marrying an attractive young widow, Gordon Cloade is tragically killed by a bomb blast in the London blitz.
Overnight, the former Mrs Underhay finds herself in sole possession of the Cloade family fortune.Shortly afterwards, Hercule Poirot receives a visit from the dead man's sister-in-law who claims she has been warned by `spirits' that Mrs Underhay's first husband is still alive.
Poirot has his suspicions when he is asked to find a missing person guided only by the spirit world.
Yet what mystifies Poirot most is the woman's true motive for approaching him...
Information
Format: Hardback
Pages: 192 pages
Publisher: HarperCollins Publishers
Publication Date: 01/10/2008
Category: Classic crime
ISBN: 9780007280520
Other Formats
Paperback from £7.15
CD-Audio from £9.95
EPUB from £5.24
eAudiobook MP3 from £6.75
Free Home Delivery
on all orders
Pick up orders
from local bookshops
Reviews
Showing 1 - 1 of 1 reviews.
Review by Bridgey
27/08/2015
Taken at the Flood - Agatha Christie ***What is it about?Written in 1948 (first published under the name 'There is a Tide'), the title is taken from a line in Shakespeare's Julius Caesar. The majority of the book takes place just after the second world war, although we are privy to a few flashbacks to events previously taken place during the war years. The novel is typical Agatha Christie, we encounter the wealthy deceased and the family squabbles that result from the reading of the will, a beautiful girl, jealousy and of course the various alibis and motives. Although this is a Poirot novel, we meet him in the opening pages and then he is absent for the first half of the book. We follow the Cloade family, a mismatch of individuals that although relatively successful in their own fields have always relied upon their elder brother Gordon Cloade's income. Having been promised all their lives that upon his death each member will be bequeathed enough money to live out their days comfortably, they are shocked to discover that he has taken a young bride and unfortunately been killed during an air raid before having chance to adjust his will resulting in their being cut from the inheritance. However, Gordon is his bride's second husband, and there is a rumour that her first husband may still be alive. If he can be found then the marriage would be illegal and the Cloade fortune would once again be in the hands of the family. When a stranger turns up in the village from South Africa, a glimmer of hope rises and Poirot is employed to try and iron out the creases. What follows is a story rich with murder, blackmail and secret identities. Which side will win the battle of wits between the family and the recently widowed Rosaleen, who governed by her roguish brother David make a very formidable team.What did I enjoy/not enjoy?The first half of the book was spent fleshing out the Cloade characters, allowing the reader to dig into their individual personalities and histories. Christie is a master of creating fully rounded characters that the reader can easily empathise with or dislike. This created a very clever build up of tension before the introduction of Poirot, allowing us to try and second guess what he will make of the situation or what plan of attack he will adopt. Some readers may have been a little dismayed that their hero did not arrive until the second half, but for me this was a welcome change to the normal books.There were a few aspects of 'Taken at the Flood' that stopped me giving my usual high mark for Christies books. Firstly I found the way the plot unravelled a little disappointing, although there were a few twists and turns, many of these I had second guessed. The ending didn't have the same sense of realism that many of the other titles in the series has, and I found myself wondering if it would ever have really worked out like that, or was it just too obvious. Unusually for me I had worked out correctly the killers identity a number of chapters before it became confirmed (which I became a little peeved at as this is one of the few Poirot books that I had not seen the tv adaptation for). The other detail I found issue with was the way that Christie kept referencing the thoughts of the characters, I have noticed this in other novels but not to the same frequency as here. At one point is was almost after nearly every other speech. I just felt it was often unnecessary and distracted me away from the storyline.Well worth a look if you are a fan of either Christie or the Poirot series, but not a novel I would advise a reader unfamiliar with Christie to start with.