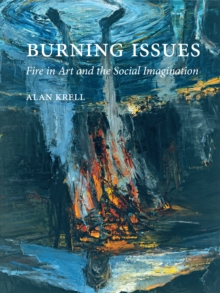 Burning Issues : Fire in Art and the Social Imagination
Hardback
Description
From the Greek myth of Prometheus to the counter-cultural Burning Man Festival in the Black Rock Desert, Nevada, fire has always sparked our imagination.
Like knowledge in the Garden of Eden, fire is at once essential to life and a threat to it.
We are fascinated and comforted by the fire that warms us and cooks our food and frightened and horrified by the fire that destroys our home and environment.
Its power is an unavoidable presence in our lives. In Burning Issues Alan Krell reflects on fire's paradox through fascinating myths and biblical tales of fire, newspaper reports, diaries, children's fables, paintings, photography and film.
Krell specifically examines representations of fire in the work of painters including El Greco, Millais, Magritte and Kokoschka, as well as that by modern and contemporary artists, such as Jean Tinguely, Yves Klein and Susan Hiller, who use fire as a theme in their work and performance.
Questions surrounding the private and the public, the intimate and the invasive, the destructive and the redemptive, weave through this generously illustrated book. An absorbing history of an element we take nearly for granted until it threatens us, Burning Issues is a timely deliberation on the remarkable discovery that took place when man thought to rub two sticks together until they sparked.
Free Home Delivery
on all orders
Pick up orders
from local bookshops
Also by Alan Krell