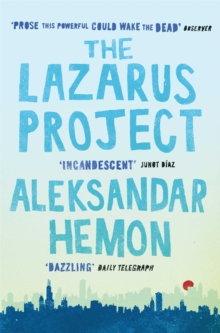 The Lazarus Project
Paperback
Description
On 2 March 1908, Lazarus Averbuch, a young Russian Jewish immigrant to Chicago, tried to deliver a letter to the city's Chief of Police.
He was shot dead. After the shooting, it was claimed he was an anarchist assassin and an agent of foreign operatives who wanted to bring the United States to its knees.
His sister, Olga, was left alone and bereft in a city seething with tension.
A century later, two friends become obsessed with the truth about Lazarus and decide to travel to his birthplace.
As the stories intertwine, a world emerges in which everything and nothing has changed . . . 'Prose this powerful could wake the dead' Observer 'This is easily Hemon's best work to date, an intricately tessellated portrait of flight, emigration, and the meaning of home' Evening Standard
Information
Format: Paperback
Pages: 304 pages
Publisher: Pan Macmillan
Publication Date: 26/08/2008
ISBN: 9780330458429
Free Home Delivery
on all orders
Pick up orders
from local bookshops
Reviews
Showing 1 - 4 of 4 reviews.
Review by wandering_star
16/06/2015
This stunning novel interleaves the story of Lazarus Averbuch, a young Jewish immigrant, killed in Chicago in 1908 and framed as part of the "anarchist menace", with that of Vladimir Brik, an early-21st century writer, a Bosnian immigrant to the US (like Hemon himself) who becomes interested in the case and travels through the Balkans and Eastern Europe researching Lazarus' family history, hoping to get a novel out of it.The 1908 section - the anti-anarchist panic, the callous framing of an innocent young man and the media response to Lazarus' supposed evil crime - is properly angry-making, although it does lose its way a little as the novel goes on. The sections set in the modern-day, desperate and gangster-ridden Eastern Europe are more depressing than angering. But the prose is incredible, and the book stirs up all sorts of ideas, about home, freedom, the old world and the new, and what it means to know someone else. The echoes between the events of both sections lead the reader to think about twenty-first century genocides and xenophobias, as well as the nineteenth- and twentieth-century ones which are directly explored. I had to keep forcing myself to slow down so that I could really get the most out of the writing itself and also the ideas behind it.Sample: One morning in Chicago I had tiptoed to the kitchen with the intention of making some coffee. While customarily spilling coffee grounds all over the counter, I spotted a can in the corner whose red label read SADNESS. Was there so much of it they could can it and sell it? A bolt of pain went through my intestines before I realized that it was not SADNESS but SARDINES. It was too late for recovery, for sadness was now the dark matter in the universe of still objects around me: the salt and pepper shakers; the honey jar; the bag of sun-dried tomatoes; the blunt knife; a desiccated loaf of bread; the two coffee cups, waiting. My country's main exports are stolen cars and sadness.
Review by AlexDraven
16/06/2015
Shapeless, pointless, depressing, but individual stories and scenes funny/entertaining. No conclusions, Bosnia is life, America death, his return his rebirth? Multiple interpretations of the Lazarus mythsIntense loneliness and dislocation of young men who have come to America to escape European conflicts, whether it's 1903 or 1992, Jewish Lazarus, or the Bosnian columnist who plans to write about him. Fluid and murky, Ideas about truth, history, propaganda, and what emotive terms like 'know' and 'self, and 'home' might mean. Patterns are set up, but not resolved, parallels drawn but not cleanly, instead everyone is drawn into a spiders web of overlapping stories with overlapping levels of 'truth'.Outside perspective as well as the style keeps us distant from the characters, even as the narrator longs for closeness with his wife, his friend, his current life, his history.
Review by labeet
16/06/2015
A very strange book, I found. In one way it gripped me in another it didn't. It's a strange loose story that doesn't quite come together. I realise it was probably the author's intention that it doesn't come together. But I'm afraid I wanted it to and it failed me there...
Review by Daftboy1
27/08/2015
This is not the normal book I would go for, but I am glad I did. Part history lesson, story of friendship and travelogue this is well worth a read.