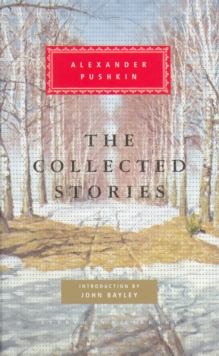 Collected Stories Alexander Pushkin
Hardback
Description
The new expanded Everyman edition of Pushkin's prose fiction contains all his mature work.
In addition to 'The Captain's Daughter' and 'The Tales of Belkin', the volume now includes many more short pieces and 'The History of Pugachev', a vivid account of an eighteenth-century Russian rebellion.
Pushkin's prose tales are the foundation stones of Russian literature.
They made possible the great achievements of Dostosvsky, Tolstoy and Chekhov.
But they are also, of course, brilliant and fascinating in their own right.
At this volume makes clear, Pushkins is one of the world's great story-tellers' direct, dramatic, tender, with the author 's voices always peruasively present.
Paul Debreceny's highly acclaimed translation was first published in 1983.
The Everyman edition is published to coincide with the Bicentenary of Pushkin's birth on 26th May 1999.
Information
Format: Hardback
Pages: 608 pages
Publisher: Everyman
Publication Date: 30/04/1999
Category: Anthologies (non-poetry)
ISBN: 9781857152517
Free Home Delivery
on all orders
Pick up orders
from local bookshops
Reviews
Showing 1 - 1 of 1 reviews.
Review by StevenTX
16/06/2015
No other modern nation's literature owes as much to one writer as Russia's owes to Alexander Pushkin. Before Pushkin, secular literature in the Russian language was virtually non-existant. After Pushkin, and inspired by him, came an explosion of literary talent in Russia that amazed the world. Pushkin himself was inspired by Russia's history, its folklore, and its people, from Emperor to serf. He was also moved to write about his own life and background, as well as the commonplaces of everyday life. This collection, which includes all of his prose writings, contains a bit of everything that touched and moved Pushkin.The stories vary in length from short slices of life, to the short novel <i>The Captain's Daughter.</i> The latter is a romantic and suspenseful tale set during a Cossack uprising in the Ural area of Russia during the 1770s that marred the reign of Catherine the Great. The leader of the uprising was a charismatic renegade named Pugachev, who posed as the slain Czar Peter III, Catherine's inept husband. Following the fictional treatment there is Pushkin's factual history of Pugachev's rebellion itself. It is a fine piece of historical writing, though readers without some background in the period and a taste for military history may find the descriptions of military campaigns, sieges and battles to be tedious. Also based on history is the first story in the volume, "The Blackamoor of Peter the Great." This is a true-to-life account of a remarkable former slave from Africa who became the godson and favorite of Peter the Great, taking the Russian name Abram Petrovich Gannibal. Gannibal's great-grandson would be none other than Pushkin himself.Pushkin's verse may be more widely read than his prose, but these stories are still a delightful reading experience and an important starting point for any study of Russian literature.
Also by Aleksandr Sergeevich Pushkin | View all