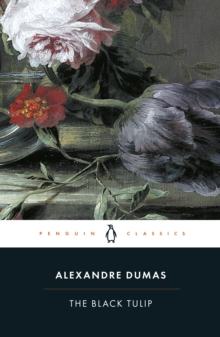 The Black Tulip
Paperback
Description
Set at the height of the "tulipomania" that gripped Holland in 17th century, this is the story of Cornelius van Baerle, a humble grower whose sole desire is to grow the perfect specimen of the tulip negra. When his godfather is murdered, Cornelius finds himself caught up in the deadly politics of the time, imprisoned and facing a death sentence. His jailor's daughter Rosa, holds both the key to his survival and his chance to produce the ultimate tulip.
Information
Format: Paperback
Pages: 288 pages
Publisher: Penguin Books Ltd
Publication Date: 24/04/2003
Category: Classic fiction (pre c 1945)
ISBN: 9780140448924
Other Formats
Paperback from £5.50
PDF from £3.61
EPUB from £2.99
Hardback from £14.99
Paperback / softback from £9.99
Free Home Delivery
on all orders
Pick up orders
from local bookshops
Reviews
Showing 1 - 5 of 8 reviews.
Previous | Next
Review by emmakendon
16/06/2015
Major themes include family relationships and botany most obviously, combined with a manipulative malcontent and the strength of the underdog, economical and political.I'm so glad I picked this up, mentioned somewhere on the BBC Books board a few weeks ago. The best character has to be the baddie Boxtel. He's brilliant! Complete cartoon character. And as the writing is almost like the unfolding of a fairytale, complete with some very avuncular observations by Dumas, it's hard to shake the cartoon imagery from your mind (might have been easier in 1850 of course!).There is much darkness in the novel too, not least in the title of course. There is the violent martyrdom of the (real) de Witts, the Canetti-style mob, the cloak-and-dagger of politics and royal ambition (or is that ultimately patriotism...?), abject violence (much of which is softened by the cartoon-style of story-telling), a drunken abusive father, Dumas' own use of irony to express something dark in a light, almost flippant, aside, and much more that will keep coming back to me over the course of today I'm sure.Out of this darkness rise two flowers, the black tulip and Rosa, the gaoler's Frisian daughter. Her father is like the porter in Auto da Fe (more Canetti!), we have godfathers, tutors, nurses and brothers, and even where relationships do not exist, Dumas likens Rosa (and tulip too) to mother here, daughter there, sister somewhere else, and 'Sire's and 'My child's crop up in poignant places throughout the dialogue. And, as a book of two parts, out of the darkness of the first, where pale Prince William is skulking around signifying doom, blooms the light of the second, where the dark tulip is the focus amongst all the other flowers of Holland, signifying hope.In its fairytale way the whole book is neat, a neat story with some neat twists, and God in his neat place, and then cluttering the thing up delightfully are often incongruous references to Dutch paintings, to myths of Greece and Rome, to the Bible and snippets of history. There's something liberatingly, childishly slapdash about some of the inaccuracies too; about Dumas' mistaking a Juvenal quote for a Horace, bestowing Medusa's snakes on someone else (Envy), or mixing his monarchs' epithets, and bounding all the way to the publishers without bothering to check.The wicked Boxtel himself (with whom it IS possible to feel some sympathy for if you've ever felt the guilt of jealousy) bears the two names Isaac and Jacob, which would probably be changed for the Disney version.The focus on the flower is reminiscent of the focus of Harris' chocolate or The Girl with the Pearl Earring. Rosa could have stepped out of Dickens, the President of the Horticultural Society is a cartoon butler-meets-town-mayor - there are so many superb cameo parts. AND, thanks to LM pointing out Dumas quarter-African status from his grandmother, it does make me wonder if either consciously or subconsciously she and her role in his family's life aren't partly being paid tribute here.And guess what, as in Seth's Equal Music, there is a dog who knows: the greyhound sitting at the feet of King William in the Dumas (p.214), the dog in Vittore Carpaccio's painting of St Jerome and St Augustine at the Scuola di San Giorgio degli Schiavoni in Venice in the Seth (p.358).
Review by SarahEHWilson
16/06/2015
Up till now I'd only ever read Dumas's "The Count of Monte Cristo," which is a wonderful story. We're going on vacation in the Netherlands in May to see the tulips, so casting around for fitting books to read in preparation I came across this one. It's just delightful. It's so refreshingly and straightforwardly a good story: good guys and bad guys, some unexpected changes in character along the way, a vivid setting, a quirky passion, bold symbols, and a little philosophy. It includes one of the most charming and comical cases of the male's conflict between love of the female and love of his projects. (My mom always like to say: "Women have men. Men have projects. Sometimes the woman is the project.") The heroine Rosa recognizes the power of the project (the black tulip) and it perhaps one of the most brilliant moves to reconcile men and women dubs the black tulip their "daughter," and sets the hero Cornelius finally in the right frame of mind about the relative importance of Rosa and his tulip.
Review by booksandwine
16/06/2015
Y'all I am an Alexandre Dumas fan girl. If I could resurrect him and make him be my writer boyfriend, I totally would (sorry boo!). Last summer I read the unabridged Count of Monte Cristo translated by Robin Buss* over a period of two weeks. I am a generally fast reader, especially when I have few work hours, however, I really wanted to savor the experience. Dumas is a high calibre writer, his stories are swashbuckling, exciting, and often tinged with romance. Basically it has everything I could ask for out of a book.The Black Tulip begins with political strife. Two brothers in Holland are murdered by the people because of their correspondance with this French guy. How nutty. The crazy definitely hooked me. We then go on to meet Cornelius who is the godson of one of the brothers. He's in his 20s, he's rich and obsessed with tulips. Yes, that's right, flowers. I guess in the 1670s flowers were all the rage, kind of like yachts for rich people. People were just mad about tulips in Holland. Jealousy leads to some CoMC-esque actions, oh hai Albert nice to see you here. However, this book departs from the CoMC formula. Friends, I was enraptured. Although this book did not have the girth of CoMC, it has that compulsive readability where I absolutely needed to know what would happen. Often, Dumas would make asides to the reader, which I love, love love because it really felt as though there was someone sitting there telling a story to me.There is a female lead, Rosa, who exhibits courage and a cool head. She's the one who tells her father and Cornelius exactly what they need to do to be safe. However, she's also given the attribute of purity, which I feel must have been a pre-requisite of her time. Seeing as how she is smart and hot and her milkshake brings the boys to the yard, she needs to be pure too.One thing I picked up on was socioeconomic status -- it seems like the poor were portrayed as ignorant, bloodthirsty nuts. I feel the message I come across in Dumas's books is that only through money are people happy. Now, I've only read two Dumas books, so this is definitely a leap to conclusions, but I think Dumas tends to portray the wealthy as having more virtue than the poor. Granted, yes he inserts some rude wealthy people. The poor virtous person is often rewarded for their virtue with vast amounts of money. Perhaps this was normal for literature of the time, but I'm no expert on classics, so I can't say that for certain.The Black Tulip made me want to abandon my reading commitments and kick back with the rest of Dumas's catalouge. Alas, that is not in my stars for awhile.
Review by Eyejaybee
16/06/2015
Very entertaining and rather more accessible than many of Dumas's other works, though showing some of the same degree of obsession. Set in seventeenth century Holland it details the travails of Cornelius de Baerle, an innocent horticulturist from Dordrecht who dreams of breeding the first pure black tulip. Inadvertently caught up in the political rivalries of the time he finds himself imprisoned while a neighbour seeks to steal his black tulip and claim it as his own. His only source of hope and assistance is Rosa, daughter of his prison guard (and far too good for him).
Review by missyukina
16/06/2015
Very entertaining. The way Dumas weaves his story plots never fails me. He is so intelligent and so are his heroes in his books. At first I was drawn to the title of the book because tulips are my favorite kind of flowers.This book is a short read yet you don't feel the story development is rushed. It has everything, suspense, romance, humor, etc. Characters are very well developed and I actually really am very fond of Gryphus character because he is very funny, haha!