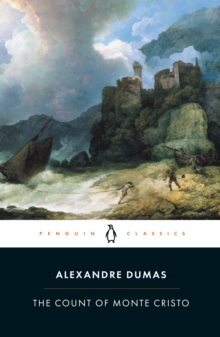 The Count of Monte Cristo
Paperback
Description
Alexandre Dumas' epic tale of suffering and revenge inspired by a real-life case of wrongful imprisonment, the Penguin Classics edition of The Count of Monte Cristo is translated with an introduction by Robin Buss.Thrown in prison for a crime he has not committed Edmond Dantes spends fourteen bitter years imprisoned in the grim fortress of If.
There he learns of a great hoard of treasure hidden on the Isle of Monte Cristo and becomes determined not only to escape, but also to unearth the treasure and use it to plot the destruction of the three men responsive for his incarceration.
No longer the naive sailor who disappeared into the dungeon all those years ago, he reinvents himself as the charming, mysterious and powerful Count of Monte Cristo.
A huge popular success when it was first serialized in the 1840s, The Count of Monte Cristo has been a fixture of western literature ever since, and the subject of countless film and TV adaptations.
Robin Buss' lively translation is complete and unabridged, and remains faithful to the style of Dumas' original.
This edition also includes an introduction, explanatory notes, a new chronology and updated suggestions for further reading.Alexandre Dumas (1802-70) was a pioneer of Romantic theatre in France, but in 1839 he turned his attention to writing the novels for which he is best known today, pften using collaborators such as Auguste Maquet to suggest plots or historical background.
His most famous works include The Three Musketeers (1844), The Count of Monte Cristo (1844-5) and The Man in the Iron Mask (1847).
If you enjoyed The Count of Monte Cristo you might enjoy Robert Louis Stevenson's Kidnapped, also available in Penguin Classics.'What makes The Count Of Monte Cristo such a superior story is that revenge is not the only emotion driving the plot ... it is an almost perfect story - also in the mix are love, friendship, jealousy, faith, education, snobbery and class'Sunday Express'The greatest of escape stories'Guardian
Information
Format: Paperback
Pages: 1312 pages
Publisher: Penguin Books Ltd
Publication Date: 27/03/2003
Category: Classic fiction (pre c 1945)
ISBN: 9780140449266
Other Formats
Paperback from £2.50
Hardback from £4.55
CD-Audio from £8.59
EPUB from £1.04
eAudiobook MP3 from £5.84
Mixed media product from £8.93
Free Home Delivery
on all orders
Pick up orders
from local bookshops
Reviews
Showing 1 - 5 of 65 reviews.
Previous | Next
Review by heidilove
16/06/2015
Definitely one of my favorites, I can't wait to read it again. If I could choose anyone to read it to me, it would definitely be Jeremy Irons.
Review by bookworm12
16/06/2015
This was one of the most intense, intricate plots I have ever encountered in the literary world. It is nothing less than spectacular and it is well worth the time commitment it takes to read it.*Most people know the basic premise of The Count of Monte Cristo. Edmond Dantes, a sailor who is beloved by his father and fiancé and all the men who work with him, is betrayed by a few jealous men and unjustly sent to prison. What follows is an incredible story of hope, survival and above all, revenge. That's about all I can say without getting into spoiler territory."The unhappy young man was no longer called Edmond Dantes – he was now number 34."**SPOILERS**Edmund's time in jail is so beautifully written. I felt his despair in every bone of my body. The sheer horror of what happened to him chilled my blood. Dantes was jailed for 6 years, considered mad and completely isolated before he heard the voice of someone other than his jailer. Just for one moment try to understand the absolute torture of that kind of solitude. The hope that he got from the mere thought of someone in the cell near him stopped him from committing suicide. "Seventeen months captivity to a sailor accustomed to the boundless ocean, is a worse punishment than human crime ever merited."He spends years wasting away and when he finally meets a fellow inmate; their connection is so deep and profound that it truly renews his spirit and gives him a reason to live. He spends years learning from Abbé Faria only to lose him after he becomes his second father. He manages to control his grief and think on his feet and after 14 years in jail Edmund is able to escape. Instead of immediately racing to the island to claim the treasure Abbé Faria told him about, he spends time working on a ship. He gains the respect and love of those he works with and bides his time. When he finally gets his fortune he proves that once again he's in no hurry. Throughout the whole book Dantes' patience is mind-boggling. He does his homework, learning all the history that unfolded during his 14 years in prison. He then focuses on rewarding those who were loyal to him. Although his father died of starvation and his fiancée married another man, there are still a few people who he wants to anonymously thank. Dantes old boss Morrel is one of my favorite characters in the book. He is such a good man. He understands the true meaning of loyalty and Dantes remembers him and spends much of his time out of prison repaying that debt. Morrel fought hard to get him released from prison and when all his attempts fail he tries to care for Dantes' father. He not only paid the funeral expenses when Dantes' father dies, he did it with the full knowledge that Dantes was considered a Bonapartist and he would be judged harshly for it. In turn Dantes saves Morrel and his entire family in their moment of need. Just when Morrel is in the direst of situations, Dante swoops in and saves them, but he keeps his identity a secret. "Be happy, noble heart, be blessed for all the good thou hast done and wilt do hereafter, and let my gratitude remain in obscurity like your good deeds." When he began his schemes for revenge things got a bit confusing. It was the one part of the novel that was a bit of a struggle for me. He takes on multiple aliases and secret identities, but at first we don't know the new character is still Dantes. We're also introduced to many new characters with little fan fare and it was hard to figure out who was who for awhile, but if you hang in there it all makes sense pretty quickly. I can't even explain to you how satisfying it is when Dantes starts revealing his true plan and we see his long-awaited revenge finally come to fruition. He slowly inserts himself into the lives of his betrayers, earning their trust as an unknown stranger. The cyclical nature of the book is delightful. For each character there is a fitting end and it's so satisfying! Both those who are good and evil get their just desserts. I loved how Mercedes and Albert found out the truth about Dantes situation and how the rest of their story concluded. The scene between Mercedes and Edmond just took my breath away. After his time in prison he had become so hard and calloused, yet with only a few words she still had the power to make him melt. Some corner of his heart never stopped loving her and the same was true for her. Their love story was a tragic one, but there was beauty in it too.Dantes calculated the perfect revenge for each of his betrayers. Fernand stole his love and the family he would have hard, so his punishment was the loss of his family. Danglars' motivation for betrayal was greed and jealousy and so he lost his entire fortune and was forced to learn what hunger truly was like. He was the worst of the villains, goading the others into their acts of treachery, and his fate was equal to his crime. Villefort acted out of a loyalty to his father, but also out of a desire to protect his own reputation and future. You could almost understand it if it was only out of love for his father, but in the end it was really a selfish decision. So it was only fitting that Villefort's doom come from within the household he tried to protect. He lost his family and the respect of his entire community. In the midst of this tale of revenge there are a few beautiful stories of love and redemption as well. Maximilien Morrel's love of Valentine de Villefort, Valentine's devotion to her disabled grandfather and Haidée's love of Dante are all powerful pictures of devotion in their own ways. It's incredible that in addition to creating such a thrilling adventure story, Dumas also gave the book wonderful characters with depth that will stay with readers forever. **SPOILERS OVER**BOTTOM LINE: Read it! It's a long haul, but unlike some long novels, the majority of the book flies by and it keeps you interested throughout. Many older classics that take time to get into and adjust to the language, but this one starts off at a run and doesn't let go. Besides one small section in the middle that dragged for me, I couldn't put it down. Curl up with this brick of a book and you won't be sorry. "In politics, my dear fellow, you know, as well as I do, there are no men, but ideas – no feelings, but interests; in politics we do not kill a man, we only remove an obstacle, that is all." "There are, indeed, some things which appear so impossible that the mind does not dwell on them for an instant.""The overflow of my brain would probably, in a state of freedom, have evaporated in a thousand follies; misfortune is needed to bring to light the treasures of the human intellect. Compression is needed to explode gunpowder." "There is neither happiness nor misery in the world; there is only the comparison of one state with another, nothing more. He who has felt the deepest grief is best able to experience supreme happiness. We must have felt what it is to die, Morrel, that we may appreciate the enjoyments of living."
Review by RJPerri
16/06/2015
This book is one of my all-time favorites, and a classic story
Review by cawilliams
16/06/2015
This is one of my favorite books, one of the twenty I would take to a deserted island kind of books. If there is an "ideal man" in literature, Edmond Dantes would certainly be it.
Review by jontseng
16/06/2015
One of the few books that are truly gripping. The ultimate revenge thriller.
Also in the Penguin Clothbound Classics series | View all