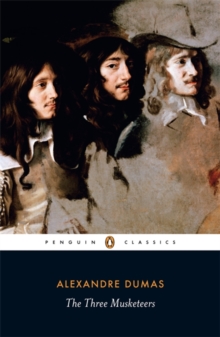 The Three Musketeers
Paperback
Description
Alexandre Dumas' thrilling tale of bravery, brotherhood and the triumph of good over evil, The Three Musketeers is translated with an introduction by Richard Pevear in Penguin Classics. 'All for one, one for all - that is our motto!' Young d'Artagnan arrives in Paris to join King's Louis XIII's elite guards, but almost immediately finds he is duelling with some of the very men he has come to swear allegiance to - Porthos, Athos and Aramis, inseparable friends: the Three Musketeers.
Soon part of their close band, d'Artagnan's loyalty to his new allies puts him in the deadly path of Cardinal Richlieu's machinations, and when the young hero falls in love with the beautiful but inaccessible Constance, he finds himself in a world of murder, conspiracy and lies, with only the Musketeers to depend on.
A stirring nineteenth-century tale of friendship and adventure, The Three Musketeers continues to be one of the most influential and popular pieces of French literature.
In this acclaimed new translation, Richard Pevear's introduction investigates the controversy of Dumas' literary collaborators, and how important serialisation was to the book's success. This edition also includes notes on the text. Alexandre Dumas (1802-70) was a pioneer of the Romantic theatre in France, but in 1839 he turned his attention to writing the novels for which he is best known today, pften using collaborators such as Auguste Maquet to suggest plots or historical background.
His most famous works include The Three Musketeers (1844), The Count of Monte Cristo (1844-5) and The Man in the Iron Mask (1847). If you enjoyed The Three Musketeers, you might like Dumas' The Man in the Iron Mask, also available in Penguin Classics.
Information
Format: Paperback
Pages: 736 pages
Publisher: Penguin Books Ltd
Publication Date: 05/01/2008
Category: Classic fiction (pre c 1945)
ISBN: 9780141442341
Other Formats
Paperback from £2.50
Hardback from £5.09
CD-Audio from £5.69
Mixed media product from £10.65
eAudiobook MP3 from £9.79
Free Home Delivery
on all orders
Pick up orders
from local bookshops
Reviews
Showing 1 - 3 of 3 reviews.
Review by Clarencex
16/06/2015
I first read this book as a youngster and enjoyed it although i didn't really follow all of the plot. I just read it again about 60 years later. I loved it. At first it seemed a little juvenile but I quickly fell under its spell.The reviews above have mentioned many of the things I liked, but I would like to add one thing not mentioned heretofore. I just finished reading an excellent long account of the English Civil War, which made me want to read fiction of the period. I was very impressed with the accuracy of Dumas's depiction of events. My newly acquired knowledge of the period greatly increased my enjoyment of Dumas's imagination. There is nothing in the novel that disagrees with the history of that period. Plus he adds all these lovely imaginary details, e.g. the motives of the fanatic who assassinated Buckingham. Great stuff. Milady has to be one of the most fascinating characters in fiction.
Review by Eyejaybee
16/06/2015
Immensely enjoyable, and surprisingly readable. I had expected that this might be rather turgid - not in the least. I was surprised, however, at some of the musketeers' activities. Not for them the rigid confines of the preux chevalier code. They are perfectly happy to bilk innkeepers and landlords, and are not above plain theft. However, one never doubts their adherence to the path of general righteousness. There are great moments of high comedy, too, and I am eagerly looking forward to the sequels. One point that amazed me was that this novel was published in the same year as his "Count of Monte Cristo". Both of them are huge novels and u am intrigued to know more if the basic mechanics of how two such large works were written and published in the nineteenth century. I would heartily recommend this entertaining novel.
Review by PriscillaM
16/06/2015
This is truely a great read. The three Musketeers plus d'Artangan, hotheaded, fickle, jovial and ruthless at the same time, but very lovable characters pit themselves against the menacing interfering Cardinal Richelieu and the unparralleled villain of M'lady de Winter as they fight for love & honour amidst some dangerous intrigues of the French Royal court.