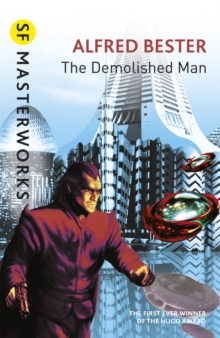 The Demolished Man
Paperback
Description
In the year 2301, guns are only museum pieces and benign telepaths sweep the minds of the populace to detect crimes before they happen.
In 2301 murder is virtually impossible, but one man is about to change that ...Ben Reich, a psychopathic business magnate, has devised the ultimate scheme to eliminate the competition and destroy the order of his society.
The Demolished Man is a masterpiece of imaginative suspense, set in a superbly imagined world in which everything has changed except the ancient instinct for murder.
Information
Format: Paperback
Pages: 256 pages
Publisher: Orion Publishing Co
Publication Date: 01/07/1999
Category: Science fiction
ISBN: 9781857988222
Other Formats
Hardback from £22.45
Paperback / softback from £10.99
Free Home Delivery
on all orders
Pick up orders
from local bookshops
Reviews
Showing 1 - 5 of 19 reviews.
Previous | Next
Review by duhrer
16/06/2015
Today I started (and finished) "The Demolished Man" by Alfred Bester, who also wrote "The Stars My Destination".The opening passages of the book didn't initial strike much of a chord with me, but as I worked my way into the narrative, I found it quite enjoyable, and can see why it comes so highly recommended.Like "Black Man" by Richard K. Morgan (which I read recently), "Demolished Man" deals with a change in human society resulting from the emergence of a new form of human. In "Demolished Man", the new model of humans are "peepers", psychic individuals. Unlike the variant thirteen genetic soldiers in "Black Man", the psychics in "Demolished Man" are a natural stage in evolution, and are slowly becoming the dominant form of human rather than an isolated minority.Like "Minority Report" by Philip K. Dick, the main narrative in "Demolished Man" revolves around someone driven to commit murder in a world in which the act of murder is almost by definition impossible. There the similarities end. "Minority Report" was a meditation on the imprecision of clairvoyance and the effect knowing your fate has on your decision to act out your part of that fate. "Demolished Man" is instead a cat and mouse game where reading someone's mind gives you access to a truth that is more or less absolute, but which is not admissible in court, and which must be supplemented with objective evidence."Demolished Man" also offers some wonderful interplay between its psychic characters, and addresses well what relationships between psychic men and women would be like. Unlike many lesser and cliched treatments of the subject, the interplay of any two of the adult psychics in "Demolished Man" can be playful, calculated, intimate, nuanced. Lesser works use ESP as a cliched device to advance the plot and telepathy as a hands-free phone. Bester on the other hand does a good job of demonstrating that like sign language, a new form of communication would have its own character rather than simply being a direct translation of written and spoken language."Demolished Man" is also interesting as a narrative, in that the narration follows one character almost exclusively for the first half of the book, and follows their nemesis almost exclusively for the last half.
Review by RoboSchro
16/06/2015
"Which is why there hasn't been a successful Triple-A in over seventy years. A man can't walk around with a distorted pattern, maturing murder, and go unnoticed these days. He'd have as much chance of going unnoticed as a man with three heads."In a society where telepathy is common, murder is impossible to hide. So when a successful businessman decides he needs to kill his greatest rival, he has to be very careful indeed.Justly considered a classic, this is a riveting but odd book. Ben Reich, the protagonist-villain, is a singularly unlikeable character. Most of the book consists of the telepathic detectives circling around him after the murder. It becomes something of a thriller, but the telepathy gives each step in the chase an intriguing spin.It's not without its flaws -- for example, at one point, murderously violent thugs appear, even though society is supposedly murder-free. But it has nice touches too, such as the typographical tricks that Bester uses to attempt to depict what telepathic conversations might actually be like. Definitely worth a read.
Review by sharonlflynn
16/06/2015
This is a very clever story and an excellent example of early science fiction. In a world where peepers exist (a proportion of the population who can read others' minds, thoughts, intentions) is it possible to commit murder? This story is a murder mystery turned on its head, and the reader gets completely caught up in it.
Review by marek2009
16/06/2015
Like The Stars My Destination, this is a classic of Sci-fi. The concepts & plot are still fresh & original 50 years on, & the style very impressive, again utilising unusual typography. The concepts of 'espers' & the psychological explorations clearly influenced PK Dick, which is an additional reason to read it.
Review by AHS-Wolfy
16/06/2015
Science fiction thriller set against the backdrop of large corporations and telepathic abilities. The owner of one of these corporations is locked in a battle of control with one of his rivals. When his offer of merger of the two companies is rejected he feels the only way to keep his own position is to murder his opponent. The problem was how to do this when the cops were all "peepers" so a complicated plan was set in motion.We get to follow this story from the perspectives of the protagonist and the lead detective and it wasn't until about 60 pages in before it really grabbed me. After that point though I was absolutely gripped by the ability of the author to describe the society while keeping up a tension packed plot. Yes, this book was written almost 60 years ago and some of the characters and technologies are reflective of this but the storytelling more than makes up for that.
Also in the S.F. Masterworks series | View all