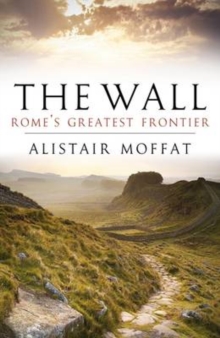 The Wall : Rome's Greatest Frontier
Paperback
Description
Hadrian's Wall is the largest, most spectacular and one of the most enigmatic historical monument in Britain.
Nothing else approaches its vast scale: a land wall running 73 miles from east to west and a sea wall stretching at least 26 miles down the Cumbrian coast.
Many of its forts are as large as Britain's most formidable medieval castles, and the wide ditch dug to the south of the Wall, the vallum, is larger than any surviving prehistoric earthwork.Built in a ten-year period by more than 30,000 soldiers and labourers at the behest of an extraordinary emperor, the Wall consisted of more than 24 million stones, giving it a mass greater than all the Egyptian pyramids put together.
At least a million people visit Hadrian's Wall each year and it has been designated a World Heritage Site.
In this new book, based on literary and historical sources as well as the latest archaeological research, Alistair Moffat considers who built the Wall, how it was built, why it was built and how it affected the native peoples who lived in its mighty shadow.
The result is a unique and fascinating insight into one of the Wonders of the Ancient World.
Information
Format: Paperback
Pages: 288 pages
Publisher: Birlinn General
Publication Date: 01/03/2009
Category: British & Irish history
ISBN: 9781841587899
Free Home Delivery
on all orders
Pick up orders
from local bookshops
Reviews
Showing 1 - 2 of 2 reviews.
Review by shanaqui
16/06/2015
The Wall is a really good book about Roman influence in Britain in general. It doesn't just talk about that most famous wall, Hadrian's Wall, but it also discusses the Antonine Wall and even references other frontiers that Hadrian created. It deals with the whole period of Roman occupation of Britain, beginning with Julius Caesar and ending with the fall of the Empire. It deals with how various different emperors saw Britain, and touches on the politics in Rome that informed that.<br/><br/>It's detailed but still readable, and Moffat's genuine enthusiasm for the subject shows. Rather than fill the book with footnotes, he's put non-essential-but-relevant information in boxes, to clearly separate it while keeping it handy. There's a section of photographs of the Wall, and the final chapter has suggestions about tourist attractions along it.<br/><br/>It didn't tell me much that I wasn't already vaguely aware of, really, from years of Classics lessons and reading Rosemary Sutcliff, but it was satisfying to get clearer pictures, and to read about the real events that inspired her books (like Carausius and Allectus, in The Silver Branch).
Review by drmaf
16/06/2015
There are plenty of good books out there on Hadrian's Wall, and the author here doesnt have too much new to add, but its a solid piece of writing geared to the non-expert. A useful book to read if you're planning to visit the Wall, gives the essential background plus tourist information. Recommended.