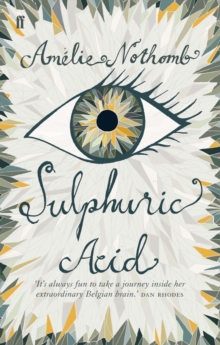 Description
"Sulphuric Acid" tells the story of a reality TV death camp, which has become the nation's obsession - an amoral spectacle played out through the media.
It is a blackly funny and shocking satire on the modern predilection for reality television and celebrity, in which the audience at home develops a taste for blood.
Information
Format: Paperback
Pages: 144 pages
Publisher: Faber & Faber
Publication Date: 01/04/2008
ISBN: 9780571234936
Free Home Delivery
on all orders
Pick up orders
from local bookshops
Reviews
Showing 1 - 2 of 2 reviews.
Review by GingerbreadMan
16/06/2015
Amélie Nothomb has blown me away several times, and I always want (and half expect) her books to be bittersweet little gems with endings that give me goosebumps. But here I must admit I was pretty darn sceptical at first. She ventures into was must be considered very close to a dystopian cliché, especially in the genre's more recent years. In a near future France (of which we learn almost nothing) a reality TV show is rounding up random people, putting them in a concentration camp and televising their every move (Hoo-hum). The TV audience is voting who will be taken off the show and killed each day (Sigh). Not the freshest of ideas, is it? (And reading this almost directly after a real account from the holocaust didn't help either).But then she almost pulls it off! The psychological power struggle between the prisoner Pannonique (beacon of hope amongst the prisoners, which she struggles to cope with) and the guard Zdena (who becomes obsessed with learning Pannonique's real name) also feels worn at first, but Nothomb manages to twist and turn this theme until it seems fresh, exciting and full of nerve. She even finds a fresh take on the viewing public, by letting them not be bloodthirsty sadists, but rather appalled and full of empathy with the prisoners. It's precisely those feelings that make them tune in every night... The relationship between the viewers and their unknowing heroine Pannonique is the most interesting one in the book.Unfortunately, the ending disappointed. It feels to me in turn strained, constructed and overly distorted, and drags the book down with it. It stays clear of being mediocre, but I expect (there it is!) more from Mme Nothomb. If you haven't read her, I heartily recommend checking out Fear and tremling or Anti-Christa instead.
Review by jayne_charles
16/06/2015
This novella/parable/fable whatever it might be called lasted precisely as long as my cappuccino. I suspect it would take considerably longer to completely understand its meaning.Set in a futuristic Europe where reality TV is properly scouring the depths with a sort of televised death camp with victims rounded up at random. It's the sort of terrain visited by DBC Pierre's 'Vernon God Little' but this is rather more serious in its tone. There is clearly some religious/war symbolism going on, though for me the most telling image was of the audience – 100% viewership at moments of high drama, with even people without TV sets going round to their neighbours to watch the programme, later having the hypocrisy to condemn it. My first thought was: what of the politicians who had permitted it to happen? Yet politicians are supposedly the embodied will of the people, and as such who should anger be directed at? And would the will of the people allow such a programme to be made? Short book but many, many questions.