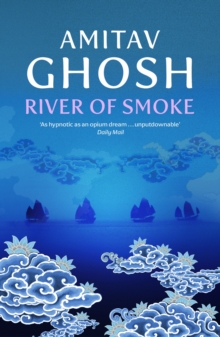 Description
'As hypnotic as an opium dream and pretty unputdownable' Daily MailIn September 1838 a storm blows up on the Indian Ocean and the Ibis, a ship carrying a consignment of convicts and indentured laborers from Calcutta to Mauritius, is caught up in the whirlwind.
When the seas settle, five men have disappeared - two lascars, two convicts and one of the passengers.
Did the same storm upend the fortunes of those aboard the Anahita, an opium carrier heading towards Canton? And what fate befell those aboard the Redruth, a sturdy two-masted brig heading East out of Cornwall?
Was it the storm that altered their course or were the destinies of these passengers at the mercy of even more powerful forces?On the grand scale of an historical epic, River of Smoke follows its storm-tossed characters to the crowded harbors of China.
There, despite efforts of the emperor to stop them, ships from Europe and India exchange their cargoes of opium for boxes of tea, silk, porcelain and silver. Among them are Bahram Modi, a wealthy Parsi opium merchant out of Bombay, his estranged half-Chinese son Ah Fatt, the orphaned Paulette and a motley collection of others whose pursuit of romance, riches and a legendary rare flower have thrown together.
All struggle to cope with their losses - and for some, unimaginable freedoms - in the alleys and crowded waterways of 19th century Canton.
As transporting and mesmerizing as an opiate induced dream, River of Smoke will soon be heralded as a masterpiece of twenty-first century literature.
Information
Format: Paperback
Pages: 592 pages
Publisher: Hodder & Stoughton General Division
Publication Date: 01/05/2012
Category: Historical fiction
ISBN: 9780719568893
Other Formats
EPUB from £5.99
Paperback from £18.99
Free Home Delivery
on all orders
Pick up orders
from local bookshops
Reviews
Showing 1 - 2 of 2 reviews.
Review by DeltaQueen50
16/06/2015
With River of Smoke, Amitav Ghosh continues the story that he originally introduced in Sea of Poppies. When we left off the Ibis was battling a storm off the coast of Mauritius and some of the characters were adrift in a long boat. While not picking up exactly where he left off, we are first treated to a flash forward and from this we can see Deeti's future as a revered matriarch. He then picks up the narrative and brings us up to date on the whereabouts of the characters. He zeros in on two of the characters from the first book, Neel and Paulina, as well as introducing some new, and colourful characters to help flesh out the story. We follow these characters as they embark on further adventures that eventually lead to Canton. We arrive there in time to read of the various incidents that were to lead to the First Opium War in 1840. Although the story may not have captivated me quite as much as Sea of Poppies, I think River of Smoke is, in many ways, the better book. What this book offers is a good story, peopled with engaging characters, but the payload for me was the history. The detailed descriptions of Canton in 1839, from the clothing, the food, the customs, the religion and, mostly, the political situation. I knew very little about this period of history particularly it's financial importance both in Asia and the Western World. Ghosh manages to paint a vivid picture of power, money and greed and conveys his facts without losing the readers' interest. The use of Robin's letters to Paulina at the start of many of the later chapters was simply brilliant. Written in a humorous, chatty tone, he was able to bring together the various threads of the story, the opium trade, the search for the elusive golden camellia, as well as the political manoeuvrings. In contrast we have the darker story of Bahram Modi who had so much to gain or lose in this conflict. Overall, River of Smoke was a rich, satisfying read, managing to be both exotic and informative.
Review by Eyejaybee
16/06/2015
I had such high hopes for this book that i suppose i was simply setting myself up for disappointment.I had absolutely adored its predecessor, [Sea of Poppies] and had looked forward to savouring this continuation of the immensely complicated but utterly enchanting plot that had unwound so deliciously in the first book. My hopes for a fine and entertaining read were maintained throughout the first half of this volume which featured the same mix of humour, tragedy, history and all-round amusement. However, I suddenly encountered the reader's equivalent of the marathon runner's wall, and found that i could barely summon the mental energy to continue.It's not that this is a bad novel - it is just that for reasons I can't quite identify i found myself suddenly suffering an inescapable bout of ennui. I suddenly just didn't care what befell those same characters whose exploits, merely a couple of chapters earlier, had kept me so enthralled.It is a long time since I felt quite so badly let down by a book that had seemed so promising!