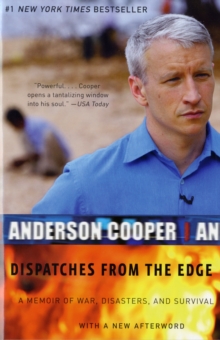 Dispatches from the Edge : A Memoir of War, Disasters, and Survival
Paperback
Description
From one of America's leading reporters comes a deeply personal, extraordinarily powerful look at the most volatile crises he has witnessed around the world, from New Orleans to Baghdad and beyond.Dispatches from the Edge of the World is a book that gives us a rare up-close glimpse of what happens when the normal order of things is suddenly turned upside down, whether it's a natural disaster, a civil war, or a heated political battle.
Over the last year, few people have witnessed more scenes of chaos and conflict than Anderson Cooper, whose groundbreaking coverage on CNN has become the touchstone of twenty-first century journalism.
This book explores in a very personal way the most important - and most dangerous - crises of our time, and the surprising impact they have had on his life.From the devastating tsunami in South Asia to the suffering Niger, and ultimately Hurricane Katrina in New Orleans, Cooper shares his own experiences of traversing the globe, covering the world's most astonishing stories.
As a television journalist, he has the gift of speaking with an emotional directness that cuts through the barriers of the medium.
In his first book, that passion communicates itself through a rich fabric of memoir and reportage, reflection and first-person narrative.
Unflinching and utterly engrossing, this is the story of an extraordinary year in a reporter's life.
Information
Format: Paperback
Pages: 240 pages
Publisher: HarperCollins Publishers Inc
Publication Date: 08/05/2007
ISBN: 9780061136689
Free Home Delivery
on all orders
Pick up orders
from local bookshops
Reviews
Showing 1 - 4 of 4 reviews.
Review by whitewavedarling
16/06/2015
In a poignant hybrid of documentary reporting and memoir, Cooper's work explores the events that led him to his current path, his motivations, and a few of the disasters and events which have left the most lasting impressions on his life and his reporting. With about half of the book focused in on his time in New Orleans post-Katrina, other portions of the book explore his own past and questions of grief, the 2006 tsunami, and his time covering wars in Sarajevo and Iraq in particular. Cooper's style is conversational and reflective, and he moves smoothly between issues of politics, personal development, and basic history/reporting. As serious as the book is, though, there's also quite a bit of hope to be found in the anecdotes and struggles Cooper focuses in on. In the end, the work is many things, and can't really be called either a memoir or a full work of journalism--it can, however, be called both necessary and worthwhile. Absolutely recommended.
Review by perpstu
16/06/2015
This book provided an inside look into what makes Anderson such a great journalist. The events that shaped his drive are sad and amazing at the same time. Although he grew up in a wealthy family, he really struggled to make a name for himself as a field journalist. Reading this book made me respect him even more than I hade before.
Review by kellanelizabeth
16/06/2015
Cooper's personal story is interesting enough, but it's poorly woven here with details about his professional life. Nice try.On the other hand, however, it does have pictures of Cooper's beautiful self.
Review by lynnmellw
16/06/2015
This is a collection of remembrances from CNN reporter Anderson Cooper. He uses an interesting technique of weaving his own personal family traumas with his experiences on location reporting on disasters. I particularly enjoyed his recounting of the Katrina disaster, as the reader really experiences his outrage at the government inaction in both Mississippi and New Orleans. It was particularly interesting to read about the recent news events from his perspective, as one can remember seeing Anderson on camera in those same locations.
Also by Anderson Cooper