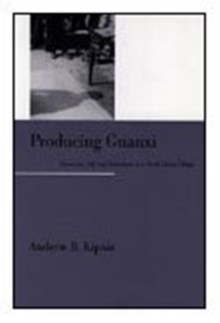 Producing Guanxi : Sentiment, Self, and Subculture in a North China Village
Hardback
Description
Throughout China the formation of guanxi, or social connections, involves friends, families, colleagues, and acquaintances in complex networks of social support and sentimental attachment.
Focusing on this process in one rural north China village, Fengjia, Andrew Kipnis shows what guanxi production reveals about the evolution of village political economy, kinship and gender, and local patterns of subjectivity in Dengist China.
His work offers a detailed description of the communicative actions-such as gift giving, being a host or guest, participating in weddings or funerals-that produce, manage, and deny guanxi in a specific time and place.
Kipnis also offers a rare comparative analysis of how these practices relate to the varied and variable phenomenon of guanxi throughout China and as it has changed over time. Producing Guanxi combines the theory of Pierre Bourdieu and the insights of symbolic anthropology to contest past portrayals of guanxi as either a function of Chinese political economics or an unchanging Confucian social structure.
In this analysis guanxi emerges as a purposeful human effort that makes use of past cultural logics while generating new ones.
By exploring the role of sentiment in the creation of self, Kipnis critiques recent theories of subjectivity for their narrow focus on language and discourse, and contributes to the anthropological discussion of comparative selfhood.
Navigating a path between mainstream social science and abstract social theory, Kipnis presents a more nuanced examination of guanxi than has previously been available and contributes generally to our understanding of relationships and human action.
Information
Format: Hardback
Pages: 248 pages, 11 b&w photographs, 3 maps, 5 figures
Publisher: Duke University Press
Publication Date: 22/01/1997
Category: Cultural studies
ISBN: 9780822318835
Other Formats
Paperback / softback from £16.79
Free Home Delivery
on all orders
Pick up orders
from local bookshops