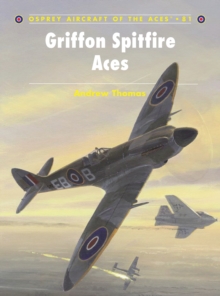 Griffon-spitfire Aces
Paperback / softback
Description
The iconic Spitfire's most radical upgrade was the 2000 hp Rolls-Royce Griffon engine.
The first variant fitted with this superb powerplant was the Mk XII, entering service in early 1943 and modified for low-level operations to counter Luftwaffe attacks on the south coast.
With a redesigned wing and propeller, the Spitfire XIV became the best low level fighter of World War 2.
The Spitfire XII and XIV squadrons were moved to south-eastern England in mid-1944 to counter the V1 flying bomb offensive, when Spitfire XIV pilots pioneered the technique of tipping the V1 over with the aircraft's wingtip to disorientate the bomb.
After the V1 offensive, most Griffon-Spitfire squadrons became part of the 2nd Tactical Air Force and took a heavy toll of the Luftwaffe in savage combat over the Third Reich.The Griffon-Spitfire also took part in the re-occupation of Malaya and the East Indies and three Spitfire XIV squadrons formed part of the Commonwealth occupation force in Japan until 1948.
A later version, the Spitfire FR 18, saw action against various factions in Palestine. Some 14 pilots gained at least five victories on Griffon-engined Spitfires in World War 2, with another 13 aces claiming part of their totals on the type.
In addition, 27 Griffon-Spitfire pilots shot down at least five of the dangerous V1 flying bombs to become 'Doodlebug' aces, whilst a large number of established aces flew the type successfully as wing and squadron commanders.
Information
Format: Paperback / softback
Pages: 96 pages, 85 black & white, 32 colour illustrations
Publisher: Bloomsbury Publishing PLC
Publication Date: 02/04/2008
Category: European history
ISBN: 9781846032981
Also in the Aircraft of the Aces series | View all