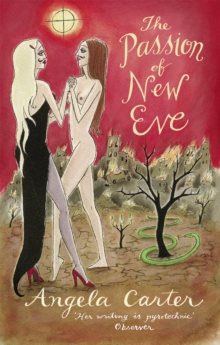 The Passion of New Eve
Paperback
Description
I know nothing. I am a tabula rasa, a blank sheet of paper, an unhatched egg. I have not yet become a woman, although I possess a woman's shape. Not a woman, no: both more and less than a real woman. Now I am a being as mythic and monstrous as Mother herself . . . 'New York has become the City of Dreadful Night where dissolute Leilah performs a dance of chaos for Evelyn. But this young Englishman's fate lies in the arid desert, where a many-breasted fertility goddess will wield her scalpel to transform him into the new Eve.
Information
Format: Paperback
Pages: 192 pages
Publisher: Little, Brown Book Group
Publication Date: 31/12/1982
ISBN: 9780860683414
Free Home Delivery
on all orders
Pick up orders
from local bookshops
Reviews
Showing 1 - 5 of 7 reviews.
Previous | Next
Review by wendyrey
16/06/2015
Interesting story where a young Englishman visits a dystopian version of the USA and is transformed into a young Englishwoman when he falls into the hands of an extraordinary feminist group. S/he then has further experiences including being captured by a misogynist man and a reclusive aging actress who turns out to have been a man. Intricate complex book raising issues of race and gender which covers similar ground to Woolf's Orlando. Too light on the science to be science fiction. Interesting but a bit over fantastical and between genres for me.
Review by thioviolight
16/06/2015
This is a novel that requires a certain mood or frame of mind to enjoy, and I wasn't immediately able to get into it. But once in, I found it very fascinating, especially somewhere midway. The story shifts from real to surreal, and I can't shrug off the feeling of being in a dream. Beautiful prose!
Review by TuesdayNovember
16/06/2015
I really wanted to like this book. It was well-written, the story was definetly original and interesting, but something about it just fell short. Reading it was awkward, the entire thing seemed to be written just to shock. The imagery was, well, it was too much, it was unreasonable and terrifying. I suppose that might have been the point, to shock and terrify, but it was overdone. Two stars for it being well-written, and half a star for effort.
Review by thorold
16/06/2015
When you come back to it thirty years on, apocalyptic seventies gender-bending generally turns out to have been appallingly badly written. Not if it's Angela Carter. Every metaphor is spot-on, every word is doing its job: the satire is devastating, but the language is never remotely ugly.
Review by shanaqui
16/06/2015
I don't really get the pleasure of reading Angela Carter. Her writing is powerful, passionate (except where intentionally deliberate and emotionally parched), every word is perfectly chosen. I can imagine the editing that goes into it. But I just can't enjoy them. It makes me laugh when people say they don't get it because it's a literary text, and sort of assume that an English Lit graduate could manage it. 'fraid not. I find Angela Carter's work nigh on unpalatable, and would much rather read half a dozen Norse sagas instead. <br/><br/>And psst -- a secret: I hated the Contemporary Women's Writing module. I audited it, because I know this is a gap in my understanding, and I came to love Jeanette Winterson and Carol Ann Duffy and writers like that. But Angela Carter is apparently the point where I grumble and say that learning Anglo-Saxon is easier. (It is.)
Also in the Virago Modern Classics series | View all