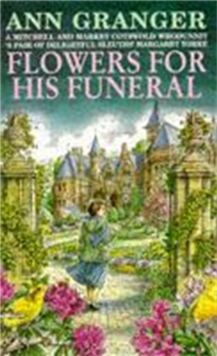 Flowers for his Funeral (Mitchell & Markby 7) : A gripping English village whodunit of jealousy and murder
Paperback / softback
Description
A face from the past has stoked many jealous fires... Meredith Mitchell and Chief Inspector Markby set out to find the killer with the poisoned thorn in Flowers for his Funeral, the seventh compelling mystery from Ann Granger's Mitchell & Markby series.
This thrilling whodunit will enthral fans of LJ Ross, Agatha Christie and ITV's Midsomer Murders. 'To be savoured' - Publishers Weekly When Meredith Mitchell bumps into her old school friend Rachel Hunter at the Chelsea Flower Show, it doesn't take Meredith long to realise that she and the effortlessly self-confident blonde have even less in common now than they had as teenagers.
Apart from one thing - Meredith's companion, Chief Inspector Markby.
For to the embarrassment of all concerned, except of course the self-possessed Rachel, Meredith's old school friend turns out to have been Markby's former wife, from whom he was divorced years before in less than friendly circumstances.
The meeting with Rachel is not the only surprise the Flower Show has in store for Markby - before the afternoon is out he has a death on his hands.
All too quickly he and Meredith find themselves drawn into the plush, apparently well-run world Rachel and her second husband created for themselves in their Cotswold home, Malefis Abbey, a world which Markby becomes increasingly convinced harbours a highly skilled murderer ... What readers are saying about Flowers for his Funeral:'What a twist in the tale!
Completely unexpected''A typical whodunit book, but written in such a wonderful way, you can't put these books down''One of the best Mitchell & Markby books'
Information
Format: Paperback / softback
Pages: 352 pages
Publisher: Headline Publishing Group
Publication Date: 13/07/1995
Category: Crime & mystery
ISBN: 9780747247708