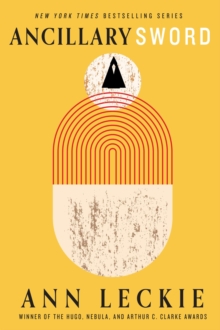 Ancillary Sword
Paperback
Description
Ancillary Sword is the sequel to Ancillary Justice, the debut novel which won every major science fiction award in 2014 and the only novel to have won the Hugo, the Nebula and the Arthur C.
Clarke Award. Ancillary Sword is currently shortlisted for this year's Nebula and BSFA Awards.Breq is a soldier who used to be a warship.
Once a weapon of conquest controlling thousands of minds, now she only has a single body and serves the emperor she swore to destroy.Given a new ship and a troublesome crew, Breq is ordered to the only place in the galaxy she will agree to go: to Athoek station, to protect the family of a lieutenant she once knew - a lieutenant she murdered in cold blood.Praise for Ancillary Justice:'ENGAGING AND PROVOCATIVE' SFX Magazine'UNEXPECTED, COMPELLING AND VERY COOL'John Scalzi'HIGHLY RECOMMENDED'Independent on Sunday'MIND-BLOWING'io9.com'THRILLING, MOVING AND AWE-INSPIRING'Guardian'UTTER PERFECTION'The Book Smugglers'ASTOUNDINGLY ASSURED AND GRACEFUL'Strange Horizons'ESTABLISHES LECKIE AS AN HEIR TO BANKS'Elizabeth Bear
Information
Format: Paperback
Pages: 384 pages
Publisher: Little, Brown Book Group
Publication Date: 07/10/2014
Category: Science fiction
ISBN: 9780356502410
Free Home Delivery
on all orders
Pick up orders
from local bookshops
Reviews
Showing 1 - 4 of 4 reviews.
Review by iansales
16/06/2015
This won the BSFA Award last weekend, and I'll admit to being disappointed. There were better books on the shortlist, and it's likely this sequel was trading on the massive success of its predecessor. Now I liked Ancillary Justice and I liked this book too. But where the first felt like a much-needed return to progressive space opera, something that had been sadly lacking for several years, Ancillary Sword doesn't so much feel like more of the same as it does a fellow traveller on previously-trod ground. And if Ancillary Justice let out a slight whiff of Susan R Matthews' novels, Ancillary Sword reeks of it. This is no bad thing – I'm a big fan of Matthews' books, and it's a crying shame she was dropped by her publisher more than ten years ago (and her second publisher went under after publishing just one of her books). But Ancillary Sword… Breq has been given command of a warship and sent to a planetary system that appears to have been cut off. There she discovers inequality and near-slavery, not to mention some nasty little conspiracies, which she resolves. The main plot of the trilogy – the war between the two factions of Anaander Miaanai – is pretty much parked to one side for the bulk of the story. Which also introduces a fresh mystery toward the end. If this is going to be a trilogy, I can't honestly see any shape to it, and two-thirds of the way in you'd expect one to be visible.
Review by RobertDay
27/08/2015
I haven't read much of what is generally categorised as "military sf", but I understand that it features ultra-competent protagonists, formal Space Navy ranks and structure, and at least one good space battle. None of these things are to be found within 'Ancillary Sword' in quite the sort of format that the formula would demand - yet I read this with a sense that this was a proper novel of military science fiction - as long as the military you have in mind is the Austro-Hungarian army in the years immediately before the First World War, as depicted in the novels of Joseph Roth. In those books, the officers of the Austro-Hungarian army sit around a lot, admiring each others' gorgeous uniforms and worrying about Mess intrigue, the latest affairs and Matters of Duty. And that's pretty much what happens in 'Ancillary Sword'.So as an action-packed, rip-roaring tale of space war, the book comes up short. But that's not really what we were expecting, was it? Instead, we see more of Radch space and Radch society through the eyes of Breq, the AI downloaded into a human body; we begin to understand more about what it was like to be an ancillary, a corpse soldier animated by a ship's AI (even though we see much of that via the crew of Breq's new ship, 'Mercy of Kalr', who are human but choose to behave like ancillaries); and we get to grips with more of the non-gendered languages of Radch space. Leckie's use of the feminine pronoun no longer struck me as odd or unique; I simply imagined all the main characters as women, whether they were intended to be or not. (Oddly, I saw the ship's troops as male, but so little male as to verge on the neuter.) The story works whether you visualise the main characters as male or female; Breq, don't forget, is an AI, and so the concept of gender is completely immaterial to 'her'.And the society! Radch society remains one of the more interesting examples of world-building in current sf; we see social interactions, prejudice, status, and mourning rituals which have no relationship to any we are familiar with. And there are tea services, taking the place of Roth;s gorgeous uniforms.I think I almost enjoyed this book more than 'Ancillary Sword'; certainly, once the final novel in the projected trilogy appears later this year, 'Ancillary Mercy', I shall schedule all three novels for an early re-read - and it's a long time since I've done that for any book.
Review by infjsarah
16/06/2015
I think I actually enjoyed this more than Ancillary Justice. Probably because the world was more familiar, the gender aspect just an accepted part of the story and the plot less confused at end. Will look forward to next book.
Review by reading_fox
16/06/2015
Remains fun, but sort of drags a bit through the middle as the plot isn't really going anywhere. It doesn't significantly enhance any form of understanding about the division with the Lord of Radch. The arbitrary gender assignments remain really quite annoying, and I still don't know -not that it matters but is is customary- what gender many of the characters actually are. At least the achronistic timepoint jumps have disappeared and we have essentially a linear novel, with few instances of the AI looking in multiple placesat once. Breq is in charge of a small ship, recently promoted to Fleet Captain her orders form at least some of the Lord of the Radch are to secure a system, whilst he disturbance within the interplanetary gates stabilises. Given that she inherited a ship short of crew she is assigned a new lieutenant who 'she' is immediately suspicious of. These suspicions are resolved very early and seem to have very little impact during the rest of the book. Breq is disconcertingly blunt when 'she' arrives on-station and soon has infiltrated a lair of societal discontent that would lead to station unrest. Not at all by chance she also has the opportunity to apologise to Awn's sister, although this is not well received. The whole story is somewhat parochial. There is a lot of Breq's time and effort spent in looking after relatively few citizens, with nothing at all happening at the wider sphere of the empire. This could be a better first book in some ways, and feels very much as an introduction to Radch culture rather than a space opera novel. Hopefully a future instalment will get the series back up to speed.
Also in the Imperial Radch series | View all