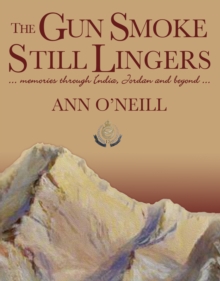 The Gun Smoke Still Lingers : Memories through India, Jordan and Beyond
Paperback / softback
Description
Ann O'Neil belongs to a group of people, now rapidly vanishing, whose accidents of birth and background, have given them a view of the world with its extraordinary variety of histories and traditions, which is at once compassionate, informed and yet firmly rooted in an Englishness we can still recognise.
So when she decided to compose a book of her life, from its early beginnings in a pre-independent Indian subcontinent through her many travels and long experience of the Middle East, it was clear it would be a remarkable book - fresh, observant, warm-hearted, and passionate.
For this is not just a personal history; it is a plea for a way of living in the world of which we may all too soon lose sight - a respect for diversity, a dedication to the fragile wonders of the natural world, and a conviction that each human life, wherever formed, the has a value that must be treasured.
Information
Format: Paperback / softback
Pages: 228 pages
Publisher: Gilgamesh Publishing
Publication Date: 22/06/2017
Category: Memoirs
ISBN: 9781908531827