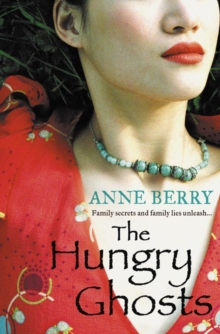 The Hungry Ghosts
Paperback
Description
A novel for those who loved Behind the Scenes at the Museum, The Poisonwood Bible and The Lovely Bones.Raped then murdered in Japanese-occupied Hong Kong in 1942, Lin Shui's `Hungry Ghost' clings tenaciously to life.
Holing up in a hospital morgue, which is destined to become a school, just in time she finds a host off whom to feed.
It is twelve-year-old Alice Safford, the deeply-troubled daughter of a leading figure in government.
The parasitic ghost follows her to her home on the Peak.
There, the lethal mix of the two, embroiled in the family's web of dark secrets and desperate lies, unleashes chaos.
All this unfolds against a background of colonial unrest, riots, extremes of weather and the countdown to the return of the colony to China.
As successive tragedies engulf Alice, her ghostly entourage swells alarmingly.
She flees to England, then France, in a bid to escape the past, only to find her portable `Hungry Ghosts' have accompanied her.
It seems the peace she longs for is to prove far more elusive that she could ever have imagined.`The Hungry Ghosts' is a remarkable tour de force of the imagination, full of instantly memorable characters whose lives intermesh and boil over in a cauldron of domestic mayhem, unleashing unworldly spirits into the troubled air.
Information
Format: Paperback
Pages: 416 pages
Publisher: HarperCollins Publishers
Publication Date: 18/03/2010
ISBN: 9780007303380
Free Home Delivery
on all orders
Pick up orders
from local bookshops
Reviews
Showing 1 - 2 of 2 reviews.
Review by Booksloth
16/06/2015
An extraordinary and accomplished first novel. Beautifully written and with traces of The Lovely Bones, The Poisonwood Bible and The House of Spirits yet entirley original. This is a book I know will (perhaps appropriately) haunt me for some time to come. It tells the story of Alice, unloved and neglected daughter of Myrtle, possibly the most monstrous of all fictional mothers. Alice becomes the 'host' to a retinue of ghosts, themselves lost and battling their own demons. The story moves from Hong Kong to England to France then back to Hong Kong and the author strikes a perfect sense of each place that adds to the authenticity of this remarkable tale. If this isn't my book of the year so far then it comes very close.
Review by AdonisGuilfoyle
16/06/2015
Not sure what to make of this novel, even whether or not I actually enjoyed the experience! Yes, there is a ghost, but the plot is not quite what I was expecting - instead of a tragic story about Lin Shui, the young Chinese girl who is murdered, <i>Hungry Ghosts</i> is more about a dysfunctional English family living in Hong Kong, particularly the youngest daughter, Alice, whom Lin Shui bonds with. Not exactly <i>The Lovely Bones</i>, then, despite the tacking on of a ghost-baby, ghost-dog and ghost-budgie!The various first person narratives, from the family and the assortment of ghosts, didn't work for me either, I'm afraid. Nobody thinks or talks in that faux-poetic style, and there were no distinguishable personalities from character to character. Myrtle the mother stood out, if only for being so dreadfully middle class and cold-hearted, and I quite liked Nicola's changing perspective, but otherwise I was unmoved.