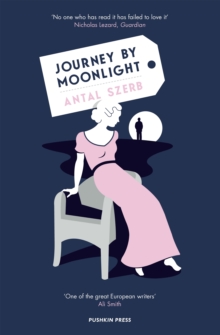 Journey by Moonlight
Paperback
Description
A major classic of 1930s literature, Antal Szerb's Journey by Moonlight (Utas es Holdvilag) is the fantastically moving and darkly funny story of a bourgeois businessman torn between duty and desire.'On the train, everything seemed fine.
The trouble began in Venice ...' Mihaly has dreamt of Italy all his life.
When he finally travels there, on his honeymoon with Erszi, he soon abandon his new wife in order to find himself, haunted by old friends from his turbulent teenage days: beautiful, kind Tamas, brash and wicked Janos, and the sexless yet unforgettable Eva.
Journeying from Venice to Ravenna, Florence and Rome, Mihaly loses himself in Venetian back alleys and in the Tuscan and Umbrian countryside, driven by an irresistible desire to resurrect his lost youth among Hungary's Bright Young Things, and knowing that he must soon decide whether to return to the ambiguous promise of a placid adult life, or allow himself to be seduced into a life of scandalous adventure.Journey by Moonlight (Utas es Holdvilag) is an undoubted masterpiece of Modernist literature, a darkly comic novel cut through by sex and death, which traces the effects of a socially and sexually claustrophobic world on the life of one man.
Translated from the Hungarian by the renowned and award-winning Len Rix, Antal Szerb's Journey by Moonlight (first published as Utas es Holdvilag in Hungary in 1937) is the consummate European novel of the inter-war period.
Published by Pushkin Press for the first time in a cloth-bound hardback edition, beautifully designed by Nathan Burton. 'A writer of immense subtlety and generosity . . . Can literary mastery be this quiet-seeming, this hilarious, this kind?
Antal Szerb is one of the great European writers'- Ali Smith 'A novel to love as well as admire, always playful and ironical, full of brilliant descriptions, bon mots and absurd situations ... it's a book utterly in love with life'- Kevin Crossley-Holland, Guardian Books of the Year 'Just divine ... the kind of book that makes you imagine the author has had private access to your own soul'- Nicholas Lezard, Guardian 'This radiantly funny and intelligent novel ... shows its author to be one of the masters of twentieth-century fiction.
Len Rix's loving translation of a book that might have remained lost to us deserves special praise'- Paul Bailey, TLS International Books of the Year 'A burning book, a major book'- Georges Szirtes, TLS Antal Szerb (1901-1945) was a writer, scholar, critic and translator born to Jewish parents but baptized Catholic.
Multilingual, he lived in Hungary, France, Italy and England, and after graduating in German and English he rapidly established himself as a prolific scholar, publishing books on drama and poetry, studies of Ibsen and Blake, and histories of English and Hungarian literature.
At the age of 39, Szerb wrote an authoritative History of World Literature.
He wrote his first novel, The Pendragon Legend, in 1934, followed by Journey by Moonlight in 1937 and The Queen's Necklace in 1943.
These, and a collection of his short stories, Love in a Bottle, are also published in English by Pushkin Press.
Szerb was killed in a concentration camp in January 1945.
Information
Format: Paperback
Pages: 304 pages
Publisher: Pushkin Press
Publication Date: 01/01/2001
Category: Classic fiction (pre c 1945)
ISBN: 9781901285505
Free Home Delivery
on all orders
Pick up orders
from local bookshops
Reviews
Showing 1 - 5 of 8 reviews.
Previous | Next
Review by marek2009
16/06/2015
An 1st rate book from an author I hadn't previously heard of. It has an excellent reputation and great reviews from reliable critics, entirely deserved. It has haunted me since I read it, and has given me a lot to think about for a long time. I will try and read more by the author, who apparently taught at the university of Szeged.
Review by DieFledermaus
16/06/2015
This beautifully written, highly atmospheric and evocative book has a rather passive, annoying main character so in the end I didn't love it as much as Szerb's Oliver VII, a perfectly light, airy and ironic fable about a king who stages his own coup and ends up disguised as himself. Mihaly and his new wife Erzsi are on their honeymoon in Italy. It is clear early on that everything is not well – Mihaly has subconscious urges to run off and finally lets Erzsi in on his unresolved issues. They stem from his conflicts with his childhood clique – the siblings, Eva and Tamas, who killed himself under mysterious circumstances, passionately intelligent Ervin, who disappeared, and sardonic and competitive Janos who they encounter in Italy. After a chance accident, Mihaly and Erzsi are separated and Mihaly decides to take the opportunity to look for his friends though he does it in a passive way, relying on fate. Erzsi leaves for Paris and has new adventures and encounters with some of Mihaly's friends there.The best part of the book was Szerb's evocative writing. He creates a memorable portrait of the isolated, intense existence of Mihaly's group – they were obsessed with death, religion and separation from a conventional life. There are also nicely atmospheric descriptions of the various Italian cities that Mihaly travels to as well as cosmopolitan Paris. Even with all the death and decay, Szerb maintains a light touch in other scenes – Mihaly's relationship with an earnest American art student and a British doctor, Erzsi's puzzling of the men in her life in Paris. A kind of mystery lurks under both Mihaly and Erzsi's experiences. An early nausea and feeling of being sucked into a whirlpool led to Mihaly's friendship with Eva and Tamas. This recurs at some points in the novel. Fate also follows Mihaly around and facilitates his meetings with his old friends. There are stories of ghosts and suicides and disappearances. Sometimes both Mihaly and Erzsi wonder if everyone in their lives is playacting except for them.Mihaly and Erzsi married each other for seemingly opposite reasons – Erzsi wanted something other than her first conventional marriage and tried to find it in the odd and dreamy Mihaly while he wanted to want a bourgeois existence with Erzsi. Mihaly's search in Italy is predictably fueled by his long-standing obsession with Eva. He can be rather annoying in his denial of feelings and passivity – after telling Erzsi the story of his past, she questions his feelings for Eva and he is adamant that he never loved her which is clearly untrue. He also just lets experiences happen to him and sponges off his family and others that he meets. Szerb has a tidy, bittersweet but not unhappy ending where Mihaly and Erzsi both get what they think they want – Eva and a death wish or an exciting break from conventional relationships – but the situations are defused in a slightly ridiculous fashion. Very well-done.
Review by Philhclark
16/06/2015
Bought for my birthday by my brother who now lives on the Continent and is exploring more writer from central Europe. I was at times pulled in by the main character and at others shouting at him in my head, calling him a whinging idiot. Szerb is a sharp observer of the human condition and by the end I felt the resolution worked.
Review by Ianaf
16/06/2015
Hungarian couple on honeymoon in Italy, as the husband describes his adolescent friends to his new wife they start to reappear in his life and lead him astray (again). Weird, wonderful, needs a second reading.
Review by dom61uk
16/06/2015
A stunningly original novel of interpersonal relationships that explores themes such as spirituality and death. Heavy going? On the contrary, it's quite a page-turner, as the action moves through Northern and Central Italy (during Fascism) and then to Paris. Szerb's style is elegant and his characters are convincing. I enjoyed this immensely.