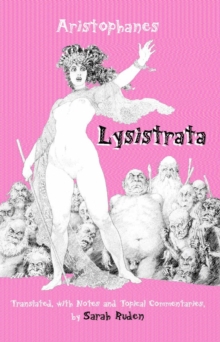 Description
This rollicking new translation of Aristophanes' comic masterpiece is rendered in blank verse for dialogue and in lyric meters and free verse for the songs.
Appended commentary essays--on Athenian democracy, ancient Greek warfare, Athenian women, and Greek Comedy--offer lively and informative discussions not only of Aristophanes, but of the broader fifth-century social, political, and cultural context as well.
Other Formats
Paperback from £1.99
Hardback from £16.19
EPUB from £2.99
Paperback / softback from £4.99
Free Home Delivery
on all orders
Pick up orders
from local bookshops
Reviews
Showing 1 - 5 of 6 reviews.
Previous | Next
Review by opinion8dsngr
16/06/2015
I never thought I would laugh out loud to an Ancient Greek play, but I guess Lysistrata proves that some [edited] jokes are funny in any era. Clever, a fascinating look at ancient feminism, and witty this play was a quick and very well worth it read, even if the only premise for it is a bunch of crude sex jokes. My only major complaint is that in the translation I read (Sutherland's in Wadworth's) he tried to contemporize it by giving the Spartans almost unreadable Southern drawls and the women modern clothes. It didn't work. Aristophenes writing, however, clearly shines through.
Review by jasmyn9
16/06/2015
A humorus tale of how the women of the Greek world unite to try and stop the war that is keeping their husbands away. I'm very glad that I read this, I neve realized that the humor they used would still be fitting for today's society. While some of the context was difficult to understand, such as the references to other writers and historical events, the footnotes provided in the version I read were helpful enough to help me move past it.4/5
Review by wonderperson
16/06/2015
I want to read all of Aristophanes. <br/> Evidently the Victorians read the Greeks and that was their normal Literature so no reason why moi ought not to follow suit.
Review by SephOfErebus
16/06/2015
Need the man in your life to do something and he won't? Lysistrata has a few pointer for you. She will have him bending to your will in no time.
Review by leslie.98
16/06/2015
This play from ancient Greece still is an amusing look at male-female relations & has some slyly witty pokes at the causes of war. In the play, Athens is at war with Sparta. Lysistrata convinces women from both city-states that together they can bring peace by denying the men sex until the men agree to a peace treaty! And of course, it doesn't hurt that the women also seize control over the war treasury.