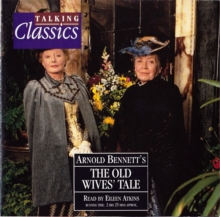 The Old Wives Tale
eAudiobook MP3
Please note: eAudiobooks can only be purchased with a UK issued credit card.
Description
Spanning nearly half a century, The Old Wives Tale is epic in scale and scope, tracing as it does the effects of time on two sisters and their surroundings.
The novel is a domestic story told with tenderness, and is concerned not with heroic statesmen or soldiers, but with small details of daily life in a way which demonstrates Bennett's great debt to French realist writers.
The action is concentrated mainly within the provincial town of Bursley, a startling contrast to Paris where Sophia and Gerald elope. 1. GIRLS TOGETHER. Constance and Sophia are the teenage daughters of invalid John Baines, Bursley's foremost draper.
As the girl laugh at Maggie, the maid, who is in love yet again, Samuel Povey, an assistant in the shop, arrives suffering from toothache.
He later asks for medicine and the girls comply. Cyril falls asleep with his mouth open and, mischievously, Sophia removes his loose tooth with a pair of pliers.
At tea, to the girls' embarrassment, he suddenly declares that he must have swallowen his tooth. 2. DEATH IN THE FAMILY. A circus comes to Bursley and although not considered respectable entertainment, Constance persuades her mother to accompany her to see the elephant.
Mr Povey escorts the ladies, leaving Sophia to look after her father.
However, while they are out, Gerald Scales, a handsome salesman, calls and flirts with Sophia in the shop.
Meanwhile, Mr. Baines is left on his own and chokes to death. On hearing the news Mrs Baines is magnificently calm in public, but in private she collapses. 3. WEDDING BELLS. Soon after Mrs. Baines hears that Gerald Scales has inherited money and left his firm.
She discovers that her daughter has also gone. A fortnight later, a note from Sophia announces her marriage to Gerald and their departure for Paris.
Mrs Baines is distraught. Samuel Povey marries Constance and, back from their honeymoon, they self-consciously settle into the Baines house.
On their first night home, Constance chides Samuel for his `horrid' paper collars, which he had not worn on their honeymoon.
He is insulted and for a moment they are on the edge of violent quarrel.
Six years pass smoothly in hard work and marital happiness.
Samuel is almost 40 when Constance announces she is pregnant. 4. SQUANDERED WEALTH. Gerald and Sophia, living abroad, act as if his fortune will last forever.
The capital melts away, however, hastened by Gerald's disastrous speculations on the stock exchange.
By May 1870 they are almost penniless and are living in cheap hotel.
Sophia realizes that her elopement was a mistake and that Gerald is also unfaithful to her.
However, she refuses his request to write to her family begging for money.
One night Gerald abandons Sophia. She is left with little money, but she manages to lease the pension Frensham, an English hotel in Paris.
She knows nothing of hotel-keeping, but her work makes it a success.
She is now called Mrs. Frensham by most guests, and continues to have no contact with her family in Bursley. 5. CONTACT RENEWED. Matthew Peel- Swynnerton, from an eminent family in the Five Towns, stays at the Frensham.
He suspects its proprietress to be the long vanished aunt of his friend Cyril Povey.
Sophia does not react to his enquiries concerning Cyril, but facially she 'reminds Matthew so strongly of his friend that he is certain she is Cyril's aunt.
Back in London, Matthew relays the news to Cyril, who is uninterested.
Matthew then hastens to Bursly to tell Constance of his meeting with Sophia.
She collapses in a shock, for she hasn't heard from her sister in 30 years.
She writes a warm letter to Sophia and re-establishes contact.
Sophia responds quickly, although she vows never to return to Bursley.
However, Constance is in ill health, so Sophia goes to her. 6. FAMILY REUNION. In Bursly, awkward in each other's company after so many years apart, Sophia and Constance chat politely over tea and admire old photographs.
Sophia shakes Constance by admitting that she does not know where her husband is, or even if he is still, alive.
The next day, Sophia is dismayed by the cramped ugliness of Bursly.
However, she has no wish to leave Constance now. 7. DOUBLE DEATH. Unable to persuade Constance to leave Bursly, Sophia stays on but is irritated because she cannot modernise the house.
In every other way, however, she rules the home, to Constance's secret annoyance.
None the less, the women are happy together until a telegram from Manchester announces that Gerald us ill.
Sophia rushes to him, but arrives too late. Looking at his corpse, she grieves bitterly for his lost youth and vigour.
Back in Bursly, she has a fit and dies. 8. CONSTANCE'S END. Cyril arrives in time for his aunt's funeral and organizes everything perfectly.
He inherits Sophia's considerable fortune but this scarcely affects him, for he drifts through life a dilettante, after failing as an artist.
While travelling abroad, he misses his mother's last illness, the gravity of which is hidden from her.
Constance accepts her condition with her normal resignation, regretting only that she has spoiled Cyril. She dies calmly in the night
Information
Format:eAudiobook MP3
Run-time:2 hours 23 mins
File size:131.61MB
Publisher:The Copyright Group
Publication Date:03/06/2013
ISBN:9781780001968
Other Formats
Paperback / softback from £7.00
EPUB from £1.07
Hardback from £19.95
CD-Audio from £8.29