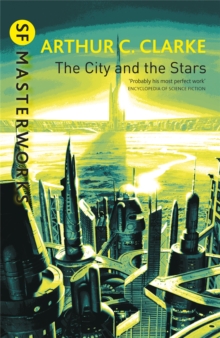 The City and the Stars
Paperback
Description
Clarke's masterful evocation of the far future of humanity, considered his finest novelMen had built cities before, but never such a city as Diaspar.
For millennia its protective dome shut out the creeping decay and danger of the world outside.
Once, it held powers that rule the stars.But then, as legend has it, the invaders came, driving humanity into this last refuge.
It takes one man, a Unique, to break through Diaspar's stifling inertia, to smash the legend and discover the true nature of the Invaders.
Information
Format: Paperback
Pages: 256 pages
Publisher: Orion Publishing Co
Publication Date: 01/03/2001
Category: Science fiction
ISBN: 9781857987638
Other Formats
EPUB from £5.99
CD-Audio from £15.45
Free Home Delivery
on all orders
Pick up orders
from local bookshops
Reviews
Showing 1 - 4 of 4 reviews.
Review by RoboSchro
16/06/2015
"Diaspar is not merely a machine, you know -- it is a living organism, and an immortal one. We are so accustomed to our society that we can't appreciate how strange it would have seemed to our first ancestors. Here we have a tiny, closed world which never changes except in its minor details, and yet which is perfectly stable, age after age. It has probably lasted longer than the rest of human history."Alvin is a young man coming of age in a static society, in an enormous city, far, far in the future. Once, humanity had reached the stars. But something had happened to cause a retreat. At the expense of growth, we achieved stability. Alvin, uniquely, is not satisfied with this. He feels a need to explore, to discover what else might be out there, to learn about the past and find a new future.Like many of Clarke's novels, this is primarily about a big idea, rather than characters. But what an idea! Mere survival, let alone stability, on the time-scale depicted here, is a towering achievement. In the hands of a lesser writer, this would have been little more than a story of rebellion against stultification. It's easy to support the lone hero against the forces that would have him conform. But Clarke manages to put both sides of the case. Is Alvin right to risk so much, for such uncertain rewards?Recommended for Clarke fans, or those who like thinking about deep time.
Review by ErlendSkjelten
16/06/2015
The City and the Stars is the story of humanity's last city, and the one man who wants nothing more than to leave it. The city, Diaspar, is a huge, enclosed environment, where the last vestiges of mankind has retreated after leaving the stars. Maintained by incredible and infallible machines, Diaspar has stood for a billion years, its immortal inhabitants living life after life, with periods of rest in the great memory banks of the city in between. Outside of the great barriers Earth has died, become nothing but a giant desert. Safe in the city, humans have lost their natural curiosity and cannot bear the thought of leaving the safety of their city. So it goes on, in stasis, until a man who has never lived before is suddenly brought forth by the computers, without the mental barriers, who goes about attempting to leave.This story was a good enough read, but it never truly gripped me. Mankind has apparently edited out all the traits it found undesirable, so the characters all seem to be paragons of patience and understanding. While this is all well and good from the perspective of future society, it makes it harder to identify properly with most of them. The only flaw they seem to have retained is fear.Clarke is masterful when it comes to describing the society of the future, however. The insights into the structure and machinery behind the city is inspired. I did at one point think that the insistence on the infallibility of the computers and machines was a bit too much, especially as the expectation was never reversed by a breakdown, but that's nitpicking. The glimpses into the great forgotten past are the most interesting of all. As Alvin, the main character, finally gets out and about and stumbles over the remains of galactic civilisation, we are at Clarke's greatest strength; the incomprehensible artefacts that clearly have much story behind them, but whose true purpose are never revealed to us. No one but Clarke can write mystery like this so masterfully, and I could easily get lost in the speculation.Of course, this is also the most frustrating part of Clarke's writing, knowing that the answers I so want will not come.Overall, it is a good book, especially if your tastes lean towards the "science" part of science fiction. Clarke is a artisan at world building, but the characters leave something to be wanted.
Review by salimbol
16/06/2015
An ambitious epic set in humanity's distant future, addressing cultural stagnation and the human need to grow and transform. The first two-thirds (the Earth-based sections), are the more interesting; after that, it feels like it becomes unbalanced, as all sorts of new ideas and revelations come crowding in thick and fast, without time for the story to properly absorb them. While it is set against a backdrop of uncounted millennia, it's actually very hard to feel the weight of all that time (and not just because the city of Diaspar is a closed system), and on top of that, I find the characterisation to be fairly thin. Having said that, it is absolutely *chock-full* of ideas that have echoed so strongly through the SF that came afterwards (e.g. the control over matter and space, the seamless communications, non-corporeal intelligence being a goal for human evolution, the computer-run city, and what we'd now call virtual reality), and that certainly made it worth reading.
Review by trueneutral
16/06/2015
Oh wow. This is one brilliant SF book. Its scope begins narrow (and slightly confusing) and becomes so wide it's almost overwhelming. From one city on a very distant future Earth, you travel (as the title suggests) to the stars and back and then piece together the history of humankind that spans billions of years. It reads as an adventure (Alvin's, the main character of the book), but woven into it a lot of issues are tackled such as religion, the stagnation of the human race (with two completely opposite examples), the achievement of scientific perfection, mortality vs immortality and most of all, fear. Fear of the unknown, fear of change, fear of being discovered.The only thing I can complain about is that the science in it is at best iffy and most of the technology used is considered so advanced that it just works and we don't care how or if it makes any sense - or is regarded almost as being magic. It might annoy some people, but it is not the focus of the book and I accepted it as such.I recommend this book to anyone, be it a fan of science fiction or not.
Also in the S.F. Masterworks series | View all