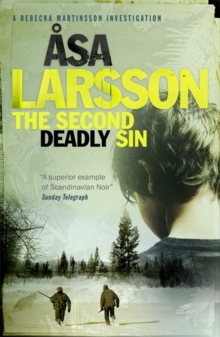 The Second Deadly Sin : A Rebecka Martinsson Investigation
Hardback
Description
At the end of a deadly bear hunt across the wilderness of Northern Sweden, the successful hunters are shaken by a grisly discovery.
Across in Kurravaara, a woman is murdered with frenzied brutality: crude abuse scrawled above her bloodied bed, her young grandson nowhere to be found.
Only Rebecka Martinsson sees a connection. Dropped from the case thanks to a jealous rival, she now stands alone against a killer who brings death to young and old, spawned by a horrifying crime that festers after one hundred years on ice.
Information
Format: Hardback
Pages: 400 pages
Publisher: Quercus Publishing
Publication Date: 02/01/2014
Category: Crime & mystery
ISBN: 9780857051721
Free Home Delivery
on all orders
Pick up orders
from local bookshops
Reviews
Showing 1 - 1 of 1 reviews.
Review by Itzey
02/03/2016
The Second Deadly Sin by Asa Larsson (translated by Laurie Thompson)<br/><br/>The Second Deadly Sin is the fifth book in the Rebecka Martinsson mystery series and the first book by this author for me. I have enjoyed previous Scandinavian crime fiction from the Norwegian author, Jo Nesbo and Stieg Larsson of Dragon Tattoo fame. The author had received numerous literary awards for previous works so I decided it was time to dip my toe into the Swedish countryside.<br/><br/>The title's reference to second "deadly sins" took me to internet for a refresher; second on the list is avarice or greed. The author's foreword informs the reader of the fury of God for those failing to follow His laws. His punishments are pretty harsh. She specifically refers to Moloch (Leviticus, Chapter 20) and the wrath of God on all future generations of his family. That was a hint of things to come.<br/><br/>The book opens with a graphic description of man versus man-eating bear, and ends with the death of the bear and the discovery of human bones in its stomach.<br/><br/>Chapter headings indicate the action takes place over five days in October. We are introduced to District Prosecutor Rebecka Martinsson and given a tour of her family home where we meet Brat and Vera, her dogs. Her first visitor is a physically disfigured policeman, Krister Eriksson and his sheepdogs, Tintin and Roy. A neighbor arrives looking for a ride to check out the welfare of a friend, Sol-Britt.<br/> <br/>Sol-Britt Uusitalo has been savagely murdered and her young grandson, Marcus is missing. One-by-one the characters appear in the story line. Police and associated forensic associates are introduced with the requisite narcissistic officer determined to undermine our heroine, Rebecka. <br/> <br/>It turns out that Sol-Britt's family has a history of unexplained tragedies. Sol-Britt's father, Frans Uusitalo, was the man eaten by the bear. Her grandmother was raped and beaten to death. A brother was run over in a hit-and-run accident.<br/><br/>The story abruptly lurches into April 15, 1914 and begins a parallel story line with a schoolteacher, Elina Pettersson. I felt the transition between the two stories, one in World War I and the other in the present, was a little awkward at times. It was difficult at times to figure out the decade being discussed as more unfortunate family members turn up dead in what was determined initially to be accidents.<br/> <br/>I felt the story of Elina and her lover was drawn out way too long. The crazed villain who murdered Elina was a detestable character but the story failed to define the reasons for his intense hatred of women. The detailed descriptions of the Swedish mining industry with its concomitant international importance to the war was interesting.<br/><br/>Sprinkled throughout the story was the developing intimacy between Rebecka and Krister that ended sweetly but predictably. Rebecka has a mysteriously absent fiance, Måns, who probably could have been left out of the book.<br/><br/>Overall I would say the book was a good read but not a great read. There were suspenseful moments that captured my attention and I am glad to have had the chance to read this book as an advance copy.