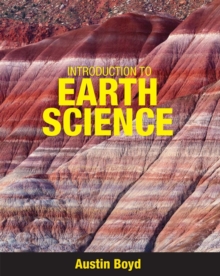 Introduction to Earth Science
Paperback / softback
Description
Introduction to Earth Science helps students learn about the physical processes of Earth, and, in some cases, how these processes can affect and influence lift.
The book examines crystallization and sedimentation to reveal the earth's past, ocean and wind circulation to help students interpret and understand climate, plate tectonics to explain natural phenomena like earthquakes, volcanoes, and mountain building, and more. The book begins by presenting students with information on the formation of Earth and an overview of the elements that make up the planet.
In later chapters, students learn how to identify minerals and elements, how the science of plate tectonics has developed and changed over time, how magma forms, and how sedimentary rocks can help us understand how climates have evolved around the world.
Additional chapters are devoted to exploring earthquakes, structural geology, geologic time, the ocean, and the atmosphere.
The text closes with a chapter addressing the development of astronomy. Written to provide students with an accessible and complete primer on Earth's processes, Introduction to Earth Science is an ideal text for foundational courses in earth science and geoscience.
Information
Format: Paperback / softback
Pages: 214 pages
Publisher: Cognella, Inc
Publication Date: 30/09/2018
Category: Earth sciences
ISBN: 9781516538126
Also by Austin Boyd