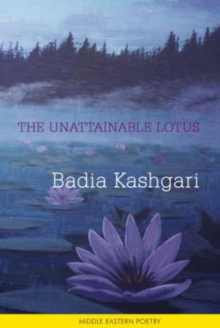 The Unattainable Lotus : A Bilingual Anthology of Poetry
Paperback / softback
Description
These are the poems of a strong and sensual soul, suffused with the rich light of the Arab-Islamic culture she not only inherits, but furthers, as a living tradition through her work.
Kashgari's poetry detects the universal in the specific, sees the universe in the grain of sand, and is able through the musical weaving of simple, but ageless symbols, to articulate both.
Her pen orbits around eternal candles of human experience, each one ignited in her work.
Bypassing confusion and despair, her poetry displays a confidence to accept life on its own terms, to celebrate not the meaning of life, but the life of meaning, whether sad or joyous.
Her work is also unique in the fact that though English is not her native tongue, her mastery is such that she is able to bend lines like rays of light into patterns and constructions.
Her poetry reflects an Arabic sensibility in English dress, lending her work a freshness and originality of phrasing that is the power and achievement of this poet's solitary transcendent voice.
Information
Format: Paperback / softback
Pages: 135 pages
Publisher: Saqi Books
Publication Date: 01/02/2001
Category: Poetry by individual poets
ISBN: 9780863563621