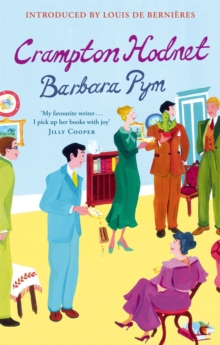 Crampton Hodnet
Paperback
Description
Formidable Miss Doggett fills her life by giving tea parties to young academics and acting as watchdog of the morals of North Oxford.
Anthea, her great-niece, is in love with a dashing upper-class undergraduate with political ambitions.
Of this, Miss Doggett thoroughly approves. Anthea's father, however, an Oxford don, is tired of his marriage and carrying on in the most unseemly fashion with his student Barbara Bird - they have been spotted together at the British Museum!
Miss Doggett isn't aware, though, that under her very own roof the lodging curate has proposed to her paid companion Miss Morrow.
She wouldn't approve of that at all.
Information
Format: Paperback
Pages: 288 pages
Publisher: Little, Brown Book Group
Publication Date: 01/08/2012
ISBN: 9781844087211
Free Home Delivery
on all orders
Pick up orders
from local bookshops
Reviews
Showing 1 - 3 of 3 reviews.
Review by alexdaw
16/06/2015
How delightful to curl up with a book that makes you snort and snicker. I know I do keep going on about Barbara Pym but she really is just so thoroughly dependable, that it is balm to the ravaged soul to pick up one of her volumes at the end of a wearying day, doing whatever it is that you do. Perfect bedtime material.I cannot possibly hope to supersede any of the gazillion reviews that have no doubt been written about this particular tome.For my money, now having read a few of her works, yes it is pretty good, but not so fabulous as say Excellent Women. Or maybe that's because it was my first Barbara Pym.The best part about this little book is its very title - Crampton Hodnet. Go on. Say it out aloud. You can just see who lives there can't you? It sounds frightfully ...well....English. I have a friend who lives in England at a place called Temple Guting. Can you believe it? I couldn't. And of course it isn't pronounced the way it is written...well, Temple is, but Guting isn't.....well not the way I would pronounce it, but then I am probably ignorant. And yes I know that someone from Orstralia can hardly talk when we have place names like Indooroopilly and Woolloomooloo. But I digress.Back to Crampton Hodnet - I won't spoil the book for you 'cept to say that it is just as it sounds...The title is a bit of a conceit ...everything in the book is unbelievable. Quite simple really. Once you get the hang of it. We're not talking magical realism here or fabulism, mind you. We are talking incisive and witty observation of a slice of society (let's call it village life) that possibly still exists, despite its use-by-date being well and truly past. In my humble opinion, there is far too little eccentricity these days and the world is poorer for it.Right. I've said my piece. Get thee to Crampton Hodnet without further ado. Go on - look it up on a map this instant and resolve to go there for a country drive this weekend. The change of air will do you good. And you never know who you might run into....
Review by RubyScarlett
16/06/2015
I really enjoyed this. It's small scale drama about marriage, proposals and romance that's sharply written with a great deal of humour. No character is spared and that can be hard sometimes as you have nobody to cling to but the minutiae of the characterization is quite unbelievable. I'm very surprised I liked this so much as I've been told Barbara Pym is rather strange and definitely not everybody's cup of tea. This seemed harmless to me but again quite tight writing where every word counts. I'm glad I gave this a go.
Review by ParadisePorch
16/06/2015
(Fiction, Vintage) One of Pym's favourite subjects is the behaviour of anthropologists as they study the behaviour of others. In Crampton Hodnet, she again examines this through a young anthropologist who has moved into her mother's village home in North Oxford to complete a paper. She cannot help observing the inhabitants of the community. This, of course, serves as an outlet for Pym's observations of human nature. This story is a little more "tied-up" than some of her others and was first published posthumously in 1987.Read this if: you enjoy sly humour about the human condition. 3½ stars