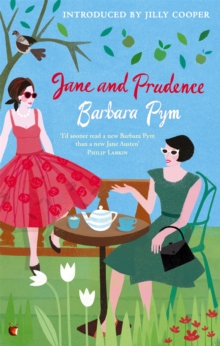 Jane and Prudence
Paperback
Description
Over the years, as Barbara Pym replaced Nancy Mitford, Georgette Heyer, even Jane Austen, as my most loved author, I devoured all her books, but JANE AND PRUDENCE remains my favourite.
Even an umpteenth reading this weekend was punctuated by gasps of joy, laughter and wonder that this lovely book should remain so fresh, funny and true to life' Jilly Cooper'The setting of this very funny novel, one of Barbara Pym's earliest, is an English village where Jane's husband is the newly appointed vicar, and where Prudence will pay Jane a visit and find herself courted by a fatuous young widower.
Prudence, at twenty-nine, has achieved nothing in life but a dull research job in London and a string of dud affairs; Jane, now in her forties, was Prudence's tutor at Oxford.
Jane cheerfully concedes that she is an incompetent housewife, but she hopes that the move to a rural parish may transform her into a Trollopean vicar's wife, as well as a crafty matchmaker.
There are many comic complications here, as Jane learns that matchmaking has as many pitfalls as does housewifery' The New Yorker
Information
Format: Paperback
Pages: 256 pages
Publisher: Little, Brown Book Group
Publication Date: 06/12/2007
ISBN: 9781844084494
Other Formats
EPUB from £5.99
Paperback from £11.45
Free Home Delivery
on all orders
Pick up orders
from local bookshops
Reviews
Showing 1 - 5 of 6 reviews.
Previous | Next
Review by thorold
16/06/2015
Another delightful glimpse of 1950s England, full of Pym's gentle but subversive little insights into the way the world (or at least this very middle-English bit of it) works. There ought to be a timeless quality about this story of vicars, spinsters and tea-parties on the lawn, but we are forever being reminded that this is a changing world. The village is on the fringe of the city; the local tradesmen are as involved in running the church as the more middle-class residents; everyone is affected by post-war shortages; there are no servants any more, but women from the village "oblige" with cooking and cleaning. Above all, it's a women's world. Men exist only on the fringes of the community. They are vain, impractical, in constant need of food and reassurance, and mostly have no very clear occupation (Dr Grampian is "some kind of economist or historian"; Fabian does something or other in the City). They can be ornamental and nice to have around the place, but on the whole they are a bit of a nuisance. Women are focussed, competent and organised, and are the only people in the book we ever see doing anything useful. The exception to this rule is Jane, who is clever, a whizz when it comes to 17th century poetry, but hilariously absent-minded when it comes to her adopted role in life. She can imagine very clearly, in terms of Trollope, Jane Austen, and Miss Charlotte M. Yonge what a clergyman's wife should be, but she always somehow loses track of what she means to do about it herself. Fortunately, Mrs Glaze (who obliges at the vicarage) and Jane's teenage daughter are on hand to treat her as a sort of honorary male to be fed and tidied-up-after, and her husband is a new man <i>avant la lettre</i> who doesn't complain about the non-appearance of food at mealtimes. The text teams with little in-jokes: it's much more literary in its references than most of Pym's other books. References to John Donne, Coventry Patmore, and Keats abound (some of them slightly more risqué than the tone of the book would suggest), Jane Austen's <i>Emma</i> is mentioned several times (Prudence's name was obviously picked to allow her to be annoyed by colleagues calling her "Miss Bates"), and there are jokey mentions in passing of literary figures who must be intended as thinly-disguised versions of Pym's friends Lord David Cecil and Philip Larkin. And there are some lovely lines - not least concerning the old battleaxe, Miss Doggett, who looks as though she "had heard that men only want one thing, but had forgotten for the moment what it was."Great fun, and as usual in Pym there is no neatly contrived ending to force closure on the characters: a few little rearrangements, everyone capable of doing so has learned a little bit about themselves, but not much has really changed.
Review by jon1lambert
16/06/2015
Jane is a brillian character in this book
Review by Kasthu
16/06/2015
Jane and Prudence is the story of two friends—Jane is a middle-aged clergyman's wife, and Prudence is a spinster at the age of 29, "an age that is often rather desperate for a woman who has not yet married." When Jane and her husband move to a small parish, they meet a widower named Fabian Driver, with whom Jane wants to set Prudence up. This novel is a very quiet satire of love and romance and the constant search for them.Jane and Prudence's friendship is an unlikely one, and it's hard to see why, exactly, they're friends (beyond the fact that they met at Oxford). In addition, I kept wondering why Jane would want to set up her good friend with someone who's a known womanizer. Still, she means well. I think the interplay between the two main characters is well done. Of the two, I think I prefer Jane with her hapless housekeeping over Prudence, who seems a bit arrogant at times. I think in a different age (say, ours), Prudence would be just anther career woman living in London (and she'd have a much better job). If she lived today, though, there would still be a focus on getting her set up with a boyfriend or husband, so not much has changed there.I did also like Nicholas, Jane's husband, who puts up with Jane's flaws with an admirable amount of patience. There's a lot of humor in this book, but some of it is downright mean at times.Still, Barbara Pym is at her best when she's talking about the relationships between men and women. She has some very interesting things to say about the state of being married, or not. I think the reason why Barbara Pym's novels appeal to people even today is that her themes are so wide-ranging and timeless.
Review by nordie
16/06/2015
Jane is the older woman in this story, married to a clergyman, who gets assigned to a country parish not far outside London. With her daughter Flora about to start university (Flora is a 2D character, with nary a speaking part, and much consigned to being in the kitchen making pots of tea for visitors). Jane is a forgetful woman, with sentences trailing off in the middle, and she's never quite sure she's doing what she should be doing in supporting her husband. However, she's on the lookout for a potential husband for her much younger and more glamorous friend Prudence.Prudence is 29, still single and always finding herself in inappropriate love affairs. She is currently pining after her much older (and very much married) boss, who ignores her potential until it's far too late. Prudence's friendship with Jane, and the regular visits to the parish, allows Prudence to enter in rather more appropriate love affairs.I know people who *adore* Barbara Pym, and whilst I found it amusing, it was not in the same league as, say, a Dorothy Whipple or a Stevenson, both of whom publish similar books written and set around the same time.
Review by AnneBrooke
16/06/2015
Nothing vast or terribly important happens in this book, but it's done so charmingly and so subtly that I can't help but love it. And it's very true how the little things count far more than great events in people's lives. A classic indeed. And definitely a woman's novel.
Also in the Virago Modern Classics series | View all