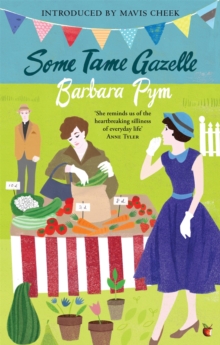 Some Tame Gazelle
Paperback
Description
It was odd that Harriet should always have been so fond of curates.
They were so immature and always made the same kind of conversation.
Now the Archdeacon was altogether different . . . 'Together yet alone, the Misses Bede occupy the central crossroads of parish life.
Harriet, plump, elegant and jolly, likes nothing better than to make a fuss of new curates, secure in the knowledge that elderly Italian Count Ricardo Bianco will propose to her yet again this year.
Belinda, meanwhile has harboured sober feelings of devotion towards Archdeacon Hochleve for thirty years.Then into their quiet, comfortable lives comes a famous librarian, Nathaniel Mold, and a bishop from Africa, Theodore Grote - who each take to calling on the sisters for rather more unsettling reasons.
Information
Format: Paperback
Pages: 272 pages
Publisher: Little, Brown Book Group
Publication Date: 06/08/2009
Category: Classic fiction (pre c 1945)
ISBN: 9781844085798
Other Formats
Paperback from £10.79
EPUB from £5.99
Free Home Delivery
on all orders
Pick up orders
from local bookshops
Reviews
Showing 1 - 2 of 2 reviews.
Review by SandDune
27/08/2015
This seems archetypal Barbara Pym country: a small village somewhere in the south of England, middle-aged spinsters, archdeacons and curates, all very middle-class with not very much happening outside of the church bazaar and afternoon tea. Belinda and Harriet are the two spinsters in question here, both unmarried although certainly Harriet has had numerous offers, which still continue even though she is in her fifties, with her close friend Ricardo, a neighbour who just happens to be an Italian count, proposing on a regular basis. But Harriet enjoys her single life as long as she has a succession of curates to dote on, and as the vicar of the parish, Archdeacon Hoccleve, is notoriously lazy, he always has a curate in tow for her to admire. But it is her sister Belinda who is the real focus of this book: Belinda, who has adored Archdeacon Hoccleve since they were students together, when her hopes of marriage were dashed by the more dashing and determined Agatha, the current Mrs Hoccleve. But not even their closest friends would say it was a marriage made in heaven, and Agatha's departure for Germany to 'take the waters' throws Belinda and the Archdeacon together rather more than they have been accustomed to …This is a very gentle book, and while it pokes fun at the behaviour of its characters it isn't done with malice. Even the Archdeacon, who must be hell to be married to, comes off relatively lightly. In my opinion it lacks the acerbic wit that [Excellent Women] has, and is a lesser book for that reason. The book was published in 1950 but written in the 1930's and it shows: this is clearly the period between the wars when middle-class (but not wealthy ladies) still had live in servants and took tea religiously at 4pm every day. Quintessentially English I suppose, although when a book is described as that it is always a very specific Englishness that is meant, that excludes whole swathes of the countryside and the population. So a quiet and pleasant read, but certainly would not be my favourite of her novels.
Review by Kasthu
16/06/2015
Some Tame Gazelle was Barbara Pym's first novel. Her writing style is rather quaint and old-fashioned, which is probably why her books fell out of fashion, but it's the quaintness that makes this novel so good. Some Tame Gazelle is less polished than some of Pym's later novels (such as Excellent Women or Jane and Prudence), but it shares some of the same themes.This one is set in a tiny village and focuses on the life of two spinsters in late middle age, Harriet and Belinda Bede. There's a new, young curate in the village for whom Harriet develops a fondness; her sister has an unrequited love for the vicar, whose wife doesn't love him. Added to this is a pompous Archdeacon and an Italian count who frequently proposes marriage to Harriet. As I've said, this book isn't quite as refined as some of Pym's later books, but you can see hints of what's to come. Pym has a wicked sense of humor when talking about her characters, poking fun at them in a very backhanded kind of way.Pym has frequently been described as a 20th-century Jane Austen, and it's easy to see where the comparison comes from. Pym had a way of getting to the heart of her characters in describing them in just a few sentences. I wish that Barbara Pym's novels would stop coming into print and then back out, because she's such a timeless, classic author. There's not much "action in her novels, and sometimes she goes overboard with the literary quotes and references, but her novels are a smashing good read—every one of them, at least, that I've read.
Also in the Virago Modern Classics series | View all