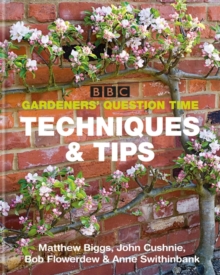 BBC Gardeners' Question Time Techniques and Tips
Paperback / softback
Description
GQT Techniques and Tips brings together the wisdom - and wit - of four current and past Gardeners' Question Time panellists, providing novice and experienced gardeners alike with highly practical advice on everything from planting, pruning, weeding, and propagating to pond building, lining a hanging basket and laying a path.
The team cover a huge range of topics: chapters include 'Planning your Garden', 'Weed Control', 'Lawns' and 'Gardening under Glass'.
With copious experience of listening to gardeners' questions, the panellists anticipate every necessity of the gardening calendar and every stage in the process of reaching your garden's full potential.
With a fantastic store of professional tips and techniques, this is an indispensable reference bible for all gardeners.
Information
Format: Paperback / softback
Pages: 320 pages, Colour photography throughout
Publisher: Octopus Publishing Group
Publication Date: 10/03/2016
Category: Gardening
ISBN: 9780857833655