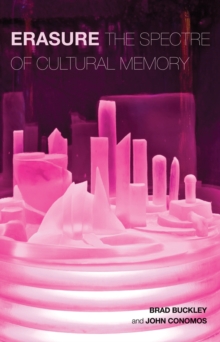 Erasure : The Spectre of Cultural Memory
Paperback / softback
Description
Erasure: The Spectreof Cultural Memory explores key issues around the increasingaesthetic and cultural erasure occurring in our society.
It moves from theseminal act of the American Pop artist Robert Rauschenberg erasing a drawing bythe painter Willem de Kooning in 1953, perhaps signalling that an echo or tracewould be all that is valued in the future, to the impact that the newtechnologies - such as Twitter, Facebook, email, smartphones, snapchat andInstagram - are having on family, class, sex, time, speed and space.
This erasure is driven by new media technology,globalisation, and new structures of education, work, home and consumption.
Erasure: The Spectre of Cultural Memory is the first bookthat brings together artists, curators, scholars and thinkers who are, in theirrespective contexts, at the forefront of these compelling questions.
Information
Format: Paperback / softback
Pages: 220 pages
Publisher: Libri Publishing
Publication Date: 31/05/2015
ISBN: 9781909818620