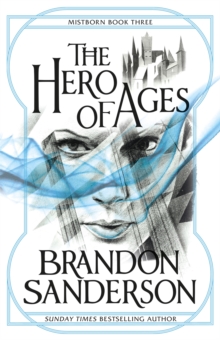 The Hero of Ages : Mistborn Book Three
Paperback
Part of the Mistborn series
Description
Tricked into releasing the evil spirit Ruin while attempting to close the Well of Ascension, new emperor Elend Venture and his wife, the assassin Vin, are now hard-pressed to save the world.This adventure brings the Mistborn epic fantasy trilogy to a dramatic and surprising climax as Sanderson's saga offers complex characters and a compelling plot, asking hard questions about loyalty, faith and responsibility.
Information
Format: Paperback
Pages: 768 pages
Publisher: Orion Publishing Co
Publication Date: 01/02/2010
Category: Fantasy
ISBN: 9780575089945
Free Home Delivery
on all orders
Pick up orders
from local bookshops
Reviews
Showing 1 - 4 of 4 reviews.
Review by reading_fox
16/06/2015
Contrived. But enjoyably so. This, the conclusion to the trilogy, manages to work better than the previous volume <i>Well of Assension</i> even though it maintains the seriousness, and still lacks the sparks from <i>Mistborn</i>.There isn't a vast amount of plot really - Vin and Eland now have two problems left to deal with: the ending of the world - increasing ashfall reducing the viability of all the cities, and some lingering concerns over the entity Ruin, that they accidently released in the last book. The plight of the cities is their chief concern so they travel a bit around the continent looking for more storage caverns created by the ex-Lord Ruler, and persuading local nobles to move their populations towards the centre, where there is most sunlight, and least ash. In dribs and drabs, small clues to come to light and Brandon does a very good job of explaining away everything that has happened in the previous books that wasn't exactly clear. Mostly he does this by inventing a third type of metallic power called hematology. It's a bit "messy" compared to the others. This darker and deeper moral edge makes the fight scenes come as somewhat light relief – but they still have the wonderfully accurate physics model underlying them.What we get instead of plot is a lot of characterisation, Spook, Sazed and Vin, and the kandra especially, which is great. There are also a lot of fascinating thoughts about religion in general, and how to deal with inconsistencies. Unfortunately this last point is somewhat glossed over. I was particularly impressed with the explanation for why god has allowed evil to occur - the only reasonable explanation I've ever heard, and therefore a shame it doesn't fit into any of the current Western religions. Although I'm sure it won't be to many reader's tastes - especially given the very marked contrast in styles compared to Mistborn, I really enjoyed the added depth the various social commentary provided. It wasn't laboured, but neatly fitted in with how the various characters were thinking at the time. It's a shame about the ending which while clever, did come across as a huge Duex et machina.A worthy conclusion.Note: This Ebook version was very badly formatted. Quite disruptive and disoncerting in places.
Review by wyvernfriend
16/06/2015
Brandon Sanderson has designed a different magic system created by ingesting and burning metal, in this world he places a few immortals, one of which was the Lord Ruler who rules with an iron fist and allows no change. Now Elend and Vin are trying to save the world, a task that seems impossible. They not only have to fight the immortal evil but also people who are trying to keep things as they are or create different changes, throughout it the various characters change and grow and people have to make some very hard decisions.The truth behind many of the creatures in this world are realised and some of the plot points become obvious. I was surprised by the ending but it was suitable and interesting.It's an interesting read and I really did enjoy it.
Review by Tsana
16/06/2015
The Hero of Ages is a worthy conclusion to an epic and detailed trilogy. All the titbits set up in earlier books come to fruition in this final volume as we, by the end, gain a fairly thorough knowledge of the world. As far as I remember, all the questions raised in earlier books are finally answered (I can only think of one that isn't and that was raised towards the end of the final volume as, I assume, a hook for Alloy of Law set in the future of the same world).What I found interesting in Sanderson's wrapping up was that I was able to guess some of the revelations/twists he threw out before they were revealed (and some seemed obvious several chapters before they were confirmed), some of the twists caught me completely off-guard. Including some twists/revelations which were set up well in advance and for which all the relevant clues were in place. I think this is mainly a product of the sheer volume of intricate world-building he's packed into the series (or, arguably, my lack of attention but I saw SOME things a mile off).As with the previous books in the series, I would have liked there to be more female characters in The Hero of Ages since I can literally count all the named, on page women on one hand. The fact that Vin remains an important central character continues to make up for it a bit, but still. This aspect, as well as the intricate world building, makes me want to compare what I've read of Sanderson to Patrick Rothfuss but in this instance that wouldn't be a fair comparison since Rothfuss's female characters all revolve entirely around the main character and his attempts to lessen this in his second book were heavy-handed. And I'm going off on a tangent.Back to the point, the entire Mistborn trilogy is well written and I would recommend it to all lovers of fantasy, particularly epic fantasy. It's definitely the kind of series you have to read in order because the world building is so cumulative. Handily, my Gollancz (UK/ANZ) editions have summaries of the earlier books at the back. And appendices.4.5 / 5 stars
Review by infjsarah
16/06/2015
Thoroughly enjoyed the conclusion of the trilogy. Particularly the end which was unexpected but satisfying.