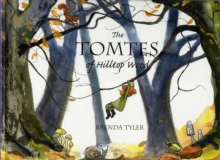 The Tomtes of Hilltop Wood
Hardback
Description
When Emily and Jamie hear that a new road will be built through Hilltop Wood, they rush to warn their friends, the Tomtes.
Tomtes are very special creatures who guard the oldest woods.
With the children's help, they immediately set about saving their home. When the workmen arrive, unexpected obstacles appear in their way: the rocks they need to move are much bigger than they remembered; their digging machines are flooded; a stream mysteriously changes direction over night.
Maybe they won't be able to build this road after all...This is a charming picture book inspired by Elsa Beskow's classic stories of little folk.
Information
Format: Hardback
Pages: 32 pages, colour illustrations
Publisher: Floris Books
Publication Date: 01/09/2010
Category: Picture storybooks
ISBN: 9780863157721
Free Home Delivery
on all orders
Pick up orders
from local bookshops
Reviews
Showing 1 - 1 of 1 reviews.
Review by AbigailAdams26
16/06/2015
When Emily and Jamie hear that a new road is planned, running straight through nearby Hilltop Wood, they are dismayed, and immediately set out to warn their friends, the tomtes. These diminutive beings, who are described in the story as the guardians of the 'oldest woods,' and who cannot be seen by adults, commence a campaign of misdirection and sabotage against the workmen. Aided by the children, they move and enlarge boulders, redirect the stream, and relocate a barn which houses an endangered bat species, and which therefore cannot be torn down. They cause so much trouble that by the time spring comes, the workmen decide that there must have been a mistake, retreating from the woods, presumably to build their road elsewhere.Inspired, according to the publisher's blurb on the back cover of the book, by the work of Swedish picture-book author and artist Elsa Beskow, Brenda Tyler created this original fairy-tale set in England, in a woodland habitat similar to the New Forest where she grew up. It's easy to see the influence of Beskow, not just in Tyler's use of tomtes, or Scandinavian gnomes, but in her concern for the natural world. There is a clear didactic purpose in <u>The Tomtes of Hilltop Wood</u>, which reminded me of the work of American author/artist Lynne Cherry, who has also used magical beings - think <u>The Dragon and the Unicorn</u> - in her eco-fables. I wasn't completely convinced by the story - it's difficult to imagine road-planners being thwarted by a few setbacks - but I am in sympathy with its purpose, and found the accompanying artwork appealing, in a simple but sweet kind of way. This is not an outstanding selection, when compared to other tomte tales - Astrid Lindgren's <u>The Tomten</u> and <u>The Tomten and the Fox</u>, for instance - but it was engaging enough that I will probably track down the two sequels. Recommended to children who enjoy tales of woodland fairies, ala Elsa Beskow or Daniela Drescher, and to any readers interested in contemporary eco-fables and fairy-tales.
Also by Brenda Tyler