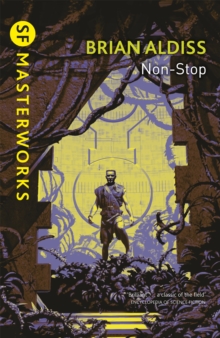 Description
Curiosity was discouraged in the Greene tribe. Its members lived out their lives in cramped Quarters, hacking away at the encroaching ponics.
As to where they were - that was forgotten.Roy Complain decides to find out.
With the renegade priest Marapper, he moves into unmapped territory, where they make a series of discoveries which turn their universe upside-down ...Non-Stop is the classic SF novel of discovery and exploration; a brilliant evocation of a familiar setting seen through the eyes of a primitive.
Information
Format: Paperback
Pages: 256 pages
Publisher: Orion Publishing Co
Publication Date: 14/09/2000
Category: Science fiction
ISBN: 9781857989984
Free Home Delivery
on all orders
Pick up orders
from local bookshops
Reviews
Showing 1 - 2 of 2 reviews.
Review by duhrer
16/06/2015
"Non-stop" is a classic of science fiction, and stands the test of time amazingly well. Like "Learning the World" by Ken MacLeod, "Non-stop" deals with a massive ship (and self-sustaining ecosystem) traveling between stars over the course of generations. Unlike "Learning the World", the society of the ship that is the focus of "Non-stop" has broken down in a fundamental way, devolving in some ways, evolving in others.One thing that makes this book remarkable is how wonderfully constructed the narrative is. The origins of society and of the inhabitants themselves are revealed in a way that keeps the reader engrossed. The plot twists, and there are many, all emerge naturally, and hold up to close scrutiny when rereading the book. None of the twists or revelations seem cheap or contrived, which is refreshing if you've seen one too many Hollywood blockbusters or episodic TV series (I love "Heroes" and all, but seriously, the strain of having to come up with the next plot twist that fits the prior narrative must be just exhausting).Another thing that amazed me when leafing back through the book was just how short each seminal section of the book turned out to be. The major revelations seldom take more than a few paragraphs. It's as thought the economy of a brilliant short story author (Borges, for example) were turned towards creating a novel as a series of linear vignettes. I'd imagine the work would have worked well serialized, and I'm sure it also will fit the attention span of the traveling reader as well.At any rate, the book is a quick read (and reread), and is highly recommended. I look forward to picking up Aldiss's history of Science Fiction as well as further of his fiction works in the future.
Review by polarbear123
16/06/2015
This book rightly deserves its status as a sci-fi classic. Interesting characters, great detail without being over the top and geekified. Nice twist and what more do you wat. Come on, it only takes a day to read!
Also in the S.F. Masterworks series | View all