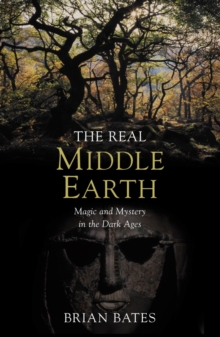 The Real Middle-Earth : Magic and Mystery in the Dark Ages
Paperback
Description
Tolkien readily admitted that the concept of Middle-earth was not his own invention.
An Old English term for the Dark Age world, it was always assumed that the importance of magic in this world existed only in Tolkien's works; now Professor Brian Bates reveals the vivid truth about this historical culture.
Behind the stories we know of Dark Age king and queens, warriors and battles, lies the hidden history of Middle-earth, a world of magic, mystery and destiny.
Fiery dragons were seen to fly across the sky, monsters haunted the marshes, and elves fired poisoned arrows.
Wizards cast healing spells, wise trees gave blessings, and omens foretold the deaths of kings.
The very landscape itself was enchanted and the world imbued with a life force. Repressed by a millennium of Christianity, this belief system all but disappeared, leaving only faint traces in folk memory and fairy tales.
In this remarkable book Professor Brian Bates has drawn on the latest archaeological findings to reconstruct the imaginative world of our past, revealing a culture with insights that may yet help us understand our own place in the world.
Information
Format: Paperback
Pages: 320 pages
Publisher: Pan Macmillan
Publication Date: 07/11/2003
Category: British & Irish history
ISBN: 9780330491709
Free Home Delivery
on all orders
Pick up orders
from local bookshops
Reviews
Showing 1 - 2 of 2 reviews.
Review by PaulMysterioso
16/06/2015
Like many people, my knowledge of "Dark Ages" was much like anyone else's: squalor, filth, despair, ruination and so on. Just what the history books tell us. I had no idea there was a culture in the Dark Ages, much less a thriving, vibrant culture the remnants of which have seeped into our own culture. Neither did I know that J.R.R. Tolkien based much of his Lord of the Rings trilogy on this neglected Dark Age culture. For those interested in this era and this nearly lost culture, Bates's book is well worth reading.
Review by daniel.links
16/06/2015
I don't really know what I was expecting from this book, but I didn't really get it. It should also be pointed out that the Tolkien tie-in is very much limited to the cover.It seems to fall between some different stools (although that might well be deliberate). It isn't a history of Anglo-Saxon culture, not of their beliefs, nor of their mythology. It isn't either a guide to places and people and plants and their meanings. Nor does it look at where Tolkien got his ideas from. On the other hand it is a bit of all these things (except the latter). I found the assumption that Anglo-Saxon spiritualism made them more in tune with the landscape etc a bit overdone at times; it seems to me we don't know this, and it also seems to me that given a choice they may well not have been so in tune with their landscape. Might be worth a flick-through if these are areas that interest you.