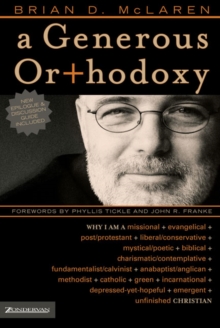 A Generous Orthodoxy : Why I am a missional, evangelical, post/protestant, liberal/conservative, mystical/poetic, biblical, charismatic/contemplative, fundamentalist/calvinist, anabaptist/anglican, me
Paperback
Description
Why I am a missional, evangelical, post/protestant, liberal/conservative, mystical/poetic, biblical, charismatic/contemplative, fundamentalist/Calvinist, Anabaptist/Anglican, Methodist, catholic, green, incarnational, depressed- yet hopeful, emergent, unfinished Christian.
A confession and manifesto from a senior leader in the emerging church movement.
A Generous Orthodoxycalls for a radical, Christ-centered orthodoxy of faith and practice in a missional, generous spirit.
Brian McLaren argues for a post-liberal, post-conservative, post-protestant convergence, which will stimulate lively interest and global conversation among thoughtful Christians from all traditions.
In a sweeping exploration of belief, author Brian McLaren takes us across the landscape of faith, envisioning an orthodoxy that aims for Jesus, is driven by love, and is defined by missional intent.
A Generous Orthodoxy rediscovers the mysterious and compelling ways that Jesus can be embraced across the entire Christian horizon.
Rather than establishing what is and is not "orthodox," McLaren walks through the many traditions of faith, bringing to the center a way of life that draws us closer to Christ and to each other.
Whether you find yourself inside, outside, or somewhere on the fringe of Christianity, A Generous Orthodoxy draws you toward a way of living that looks beyond the "us/them" paradigm to the blessed and ancient paradox of "we." Also available on abridged audio CD, read by the author.
Information
Format: Paperback
Pages: 352 pages
Publisher: Zondervan
Publication Date: 01/01/2006
Category: Christian life & practice
ISBN: 9780310258032
Free Home Delivery
on all orders
Pick up orders
from local bookshops
Reviews
Showing 1 - 5 of 10 reviews.
Previous | Next
Review by jesposito
16/06/2015
A very helpful example of employing both continuity and change as we allow the Spirit to lead us somewhere genuinely new, while still relying heavily upon the faithfulness of our traditions.
Review by juliandavies
16/06/2015
McLaren examines orthodox Christianity and shatters the myths of it being exclusive and judging. He repositions the good news of Jesus of Nazareth in such a way that the Kingdom of God appears as a welcoming place, not as one that has its doors locked tight.
Review by kcozonac
16/06/2015
A basic introduction to the Emergent church. Interesting ideas, thought-provoking. However, like the Emergent Church movement, it lacks clear theology, depending rather on warm fuzzies of can't we all just get along?
Review by stephendr
16/06/2015
A book that has the potential to do untold damage to orthodox Christianity.
Review by pulpexploder
16/06/2015
This book summarizes and expounds on every major movement in the Christian faith, up to and including the Emergent movement, and goes into what we can learn from them, both good and bad. Recommended for anyone wanting to learn more about the breadth and diversity of Christian spirituality.
Also in the Emergent YS series | View all