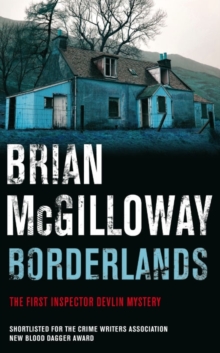 Description
The corpse of local teenager Angela Cashell is found on the Tyrone- Donegal border, between the North and South of Ireland, in an area known as the borderlands.
Garda Inspector Benedict Devlin heads the investigation: the only clues are a gold ring placed on the girl's finger and an old photograph, left where she died.
Then another teenager is murdered, and things become further complicated when Devlin unearths a link between the recent killings and the disappearance of a prostitute twenty-five years earlier - a case in which he believes one of his own colleagues is implicated.
As a thickening snow storm blurs the border between North and South, Devlin finds the distinction between right and wrong, vengeance and justice, and even police-officer and criminal becoming equally unclear.
A dazzling and lyrical debut crime novel, Borderlands marks the beginning of a compelling new series featuring Inspector Benedict Devlin. 'Brian McGilloway's command of plot and assurance of language make it difficult to believe that Borderlands is his debut.' - The Times 'A mystery of labyrinthine complexity' - Sunday Telegraph
Information
Format: Paperback
Pages: 320 pages
Publisher: Pan Macmillan
Publication Date: 04/04/2008
Category: Crime & mystery
ISBN: 9780330452557
Free Home Delivery
on all orders
Pick up orders
from local bookshops
Reviews
Showing 1 - 5 of 6 reviews.
Previous | Next
Review by sunniefromoz
16/06/2015
A well written police procedural is one of the reasons I'm so addicted to crime fiction. A good police procedural will introduce you to the police,take you by the land and lead you through their investigation as they unearth clues by interviewing people, sifting the evidence and following leads. There will be a careful balance of detecting and learning about the lives of the detectives. If the author has done the job properly s/he doesn't deliberately hold back clues or have the the detectives catch the culprit in the act, just two pages before the end.In his first novel, BORDERLANDS, Brian McGilloway has succeeded in all of the above. He has also avoided producing a door stop of a book. At just 227 pages, BORDERLAND doesn't muck about. You're straight into the story with no unnecessary padding. It's something I wish more authors would try to achieve.If, like me, you enjoy police procedurals, you can't go wrong with BORDERLANDS. I look forward to reading more of McGilloway's writing.
Review by DeltaQueen50
16/06/2015
Set on the border of Northern Ireland and the Republic of Ireland, Borderlands is a solid police procedure introducing Inspector Devlin of the An Garda. I found the book to be both well written and interesting with a complex plot revolving around past misdeeds and the seeking of revenge. What at first appears to be a case of a young girl being murdered soon evolves into a gritty tale where the past plays an important role . When a second murder takes place, it becomes apparent that there may be a connection between these cases and a much earlier disappearance. The investigation moves forward slowly due to some carelessness and miscalculation by the police, as well as their having to trace and acquire old records. The author's use of some interesting red herrings and a few side stories, keep the reader engaged and wanting to read on.I particularly enjoyed the setting and the characters, a mix of police, petty criminals, local politicians and travellers, and found the give and take between both the police forces of the two countries interesting. I liked the twists and turns the story took and I will be continuing on with more books in this series.
Review by johnbsheridan
16/06/2015
An engaging debut that I've had in my TBR list for awhile and I'm glad I finally got round to reading it. I'm usually reluctant to read mysteries set in Ireland (my home country) as I never really manage to bypass the sense that the bodycount in these books would never actually happen in reality so while the murder statistics actually peaked in 2007 at 77 for the whole year for the whole country the fact that the author manages to squeeze in so many (relatively speaking) in such a short period of time in a sparsely populated part of the country should jar but somehow doesn't so congratulations on achieving that feat. If I were to compare to another Irish author it would probably be to Declan Hughes (this is based solely on reading the first book in each of their respective series) I would have to side with McGilloway as being the more convincing so on to the next in line for each and we shall see who prevails.
Review by maneekuhi
16/06/2015
Borderlands is rated 4.0 and completed 7/7/11. At 50% point good story and characters and wanted to read more 15 year old girl dies from poisoned "e" pill and a guy is shot in the head. Prime suspect dies in custody. Supervisor appears suspicious to our cop hero. Bodies start to fall like shamrocks, bit of a stretch. Tidy conclusion, but a very disconcerting "thanks" from the cleared supv at the end.... Read more in series? Maybe.
Review by Eyejaybee
16/06/2015
Absolutely excellent, with that extra savour of serendipity! I knew nothing about this novel and picked it up entirely by chance.Set in the grey area along the border between Northern Ireland and the Irish Republic, this novel starts with the seemingly inexplicable murder of Angela Cashell, eldest daughter of a local low-life. As the police of both jurisdictions work together to try to unravel the mystery another youngster is murdered, again without apparent motive.Inspector Benedict Devlin, of the Garda, leads the investigation, coming up against a local traveller community as well as the shadows cast by "The Troubles" by which this area had been so dreadfully disfigured.The novel is written with a great lucidity, and while there are numerous twists and complications, the plot is always utterly plausible.Definitely a great find!