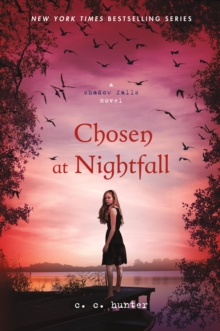 Chosen at Nightfall
Paperback
Description
When Kylie Galen left Shadow Falls, she thought it was the hardest decision of her life.
Heartbroken and separated from everyone she loves, she finally comes to terms with her abilities and what it means to be a chameleon.
But as Kylie's journey comes to a close, she must return to the camp that started it all...and she must finally choose between the two boys who love her.
The werewolf who broke her heart when he chose his pack over her, and the half-fae who ran from their intense attraction before they ever really had a chance.
For Kylie, everything will finally be revealed and nothing will ever be the same.
Information
Format: Paperback
Pages: 400 pages
Publisher: Griffin Publishing
Publication Date: 23/04/2013
Category: Fantasy
ISBN: 9781250012890
Free Home Delivery
on all orders
Pick up orders
from local bookshops
Reviews
Showing 1 - 4 of 4 reviews.
Review by JacquieT.
16/06/2015
I bought this book before it was even available to be sold and was thrilled to be able to have it in my hands to read. This is the last book in the series for this character and I adored this series from beginning to end. We can finally see Kylie with the powers she has been gifted with and the choice of whom is the one that she will be tied to in the end. The struggle for her affection between Lucas and Derek is powerful. This is one story I hated to see end but I'm happy to see how it all worked out for Kylie. If anything, seeing what new antics the other characters were up to kept you wanting to continue reading. Thank you Ms. Hunter for keeping me entertained for the past few years with a great series that I personally own each of your books.
Review by wyvernfriend
16/06/2015
While it's referred to as a camp, it's really a boarding school. In this you see the characters grow up and discover things about themselves, and while there's a confrontation with the bad guy at the end and the buildup is all there for this confrontation, the story is more about the relationships and the growth and the confrontation is quite rushed feeling.It's interesting to see Kylie realise that if she wants change she herself needs to step up to the plate. And that if her friends also want change that they too need to do the same. You can see how she could become a confessor and she also can see how some traditions in this world are for survival, not for malicious reasons, but that unthinking traditions are not good for a society.It didn't feel like a complete end, there were openings for sequels, but the current story arc is over. Interesting and quite readable but it left me wanting more.
Review by brandileigh2003
16/06/2015
I started this series when it came out, and I have followed it since, it is sad to know that my time with these characters has come to a close, but I am happy for them to get their ending. C.C. Hunter doesn't disappoint. This gets right into the action and into the thick of things. Kylie has a lot of hard choices to make and it doesn't really ever give her a chance to rest and figure things out. After all, evil villians don't like to do that, they only make speeches to give you a chance to figure out how to beat them after all, lol. Derek and Lucas are at the forefront, and as usual, I am so torn, but after the heartache in the last one, I don't know if that was actually closing his part or if its just leading to a more epic ending. They both have great things going for them and so sad to have to have one of their hearts shattered along with a piece of mine. But as the book went on, I knew the right choice for her, and totally agreed with it. It was the best possible ending to a love triangle like this, and I didn't know how Ms Hunter would do it, but she gave me the romantic HEA for them that I wanted. As usual, the secondary characters are amazing. I love the bantering between Miranda and Della, and I am super excited to hear that Della will be the star in her very on spin off story. Holiday and Burnett are amazing too, and I love where she took them. The rolling on the floor laughing humor is still in place, and there were several places that had me in stitches and my husband giving me that look and asking if the book needed to be taken away. Then I gave him my look and all was good. The series ended beautifully, I feel like I got the resolution I wanted, I saw tremendous growth in Kylie. The romance was hot and tension filled. Bottom Line: Great ending to awesome series.
Review by wearylibrarian
27/08/2015
Still a great series that grabs you and won't let go. This time Kylie battles Mario and his son. She must win or she and many others will die.