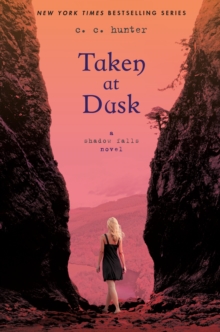 Description
Kylie Galen believes that if she can just uncover what she is, all the other uncertainties in her life will suddenly make sense. And things really need to make sense right now. For starters, her heart is still torn between Lucas and Derek - or it was.
Now, she's beginning to wonder if she was wrong about both boys.
But it's not just romance that's leaving Kylie conflicted.
She's also being haunted by an amnesia-stricken ghost who can't remember who she is.
Complicating matters even more is the message the spirit brings from the world beyond: Death is imminent for someone at Shadow Falls Camp - and this time, there's nothing Kylie can do to stop it...
Information
Format: Paperback
Pages: 400 pages
Publisher: St Martin's Press
Publication Date: 10/04/2012
Category: Fantasy
ISBN: 9780312624699
Free Home Delivery
on all orders
Pick up orders
from local bookshops
Reviews
Showing 1 - 5 of 9 reviews.
Previous | Next
Review by JacquieTalento
16/06/2015
Ms. Hunter's books are always an easy 5 star review. I won her first book in this series and have been hooked ever since. I just can't seem to get enough of her writing. I cried and laughed, boy did I laugh. Her stories just keep getting better and tug at your heart strings. Kylie is finally going to get some answers.
Review by pacey1927
16/06/2015
I loved the first book in the Shadow Fall's series, "Born At Midnight". I found the idea of a camp filled with a variety of paranormal teenagers to be absolutely intriguing. Kylie, as the main character, is truly a delight. She is loyal to her friends and family and would do absolutely anything for them. She also has a strong sense of what is right and wrong and she stands up for what she believes . The supporting characters are also appealing. I especially enjoy Kylie's roommates, Miranda the witch and Della the vampire. I enjoyed reading about Kylie's search into what she was, which was explored in more detail in the second novel. The most engaging storylines seem to come from the ghosts that Kylie can see and even communicate with. Those stories weave into the camp plotlines seamlessly.In the third installment, "Taken At Dusk", we see more emphasis placed on the obligatory YA love triangle. Kylie has been hurt by both mysterious werewolf Lucas and by boy next door (who happens to be able to feel Kylie's emotions), Derek. Now Kylie has decided to forget Derek and focus on being happy with Lucas. My first real complaint with this book is the back and forth inner turmoil Kylie continuously has deciding between the boys. It was just too much. I get the Kylie is young and she has room to date both but there were just too many pages devoted to the inner drama this time around.My biggest peeve though is the cliffhanger. As others have pointed out, we end this book in an almost identical manner as in the second book. We know only the barest hint more at the end of this book than we did at the end of the second. It just feels like this part of the series is really dragging on. It is time to get somewhere with the overall plot. I also felt like there was less of a climax this time around than in the previous books. There is supposed to be a big danger to Kylie's life but that sort of ends with a whimper instead of with the bang readers have come to expect.This isn't to say this book was bad. It is really good in fact. The personalities of the characters are vibrant as always. The humor is strong and I had some chuckle aloud moments. I loved the story about Miranda and Perry; it was absolutely adorable. We are introduced to a new character named Ellie who I thought brought a nice twist to things at Shadow Falls. I just don't feel like this book was as strong as the others. It really did feel like a filler book. I am looking forward to the forthcoming installment and I don't hesitate to pre-order it because I am sure it will be good. The question is will it be great?
Review by ShellyPYA
16/06/2015
Continues Kylie's quest to discover what she is. The people she thought were her birthgrandparents may not be. Romance with Lucas heats up, but she finds out that unless she's at least part werewolf, the pack and his grandmother won't accept her. She deals with her feelings for Derek and tries to be friends.
Review by snazz
16/06/2015
It is exceedingly rare that a third book in a series is as good as this one was. In fact, I've been thoroughly impressed with all three books. This one was better than the second and nearly as amazing as the first. I will admit that I thought this was the final book in the series and I'm a little disappointed that it's not. But we do get more answers. By the end of the book Kylie has a name for what she is. But don't get too excited, because a label is all she has. Another great thing about this book is that I felt satisfied with the ending once again. It is both self-contained and part of a larger plot line. I love authors who can bring a finality to a book without sacrificing the draw of the next in the series. And Hunter has this down. Also, I was pretty surprised at the resolutions she gave us. There wasn't much that I saw coming. Kylie is still smart, which makes me so happy. I hate it when authors have to make their main character stupid in order to advance the plot. Kylie did everything right and yet bad things still had their way of finding her. Great book, you will not be disappointed.
Review by ShanonS
16/06/2015
I really can't even explain how much I love this series! Taken At Dusk is the the third book in the Shadow Falls series, and it did not disappoint. C.C. Hunter once again had me laughing and connecting with all of the fantastic characters in this story!Throughout most of this book, Kylie is still trying to find answers as to what she really is and her brain pattern continues to remain unreadable--which doesn't go unnoticed by anyone at camp. On top of her issues dealing with her identity, odd events start happening around her and she also keeps getting visits from a very confused ghost. She also comes across an actual living link to her father, who could explain once and for all what kind of supernatural she is. One of the things I like most about Kylie though, is that she continues to evolve and become a stronger person as her story unfolds. I really feel for her because she has so many things going on at once but she still handles her frustration well, even when she discovers that there are more to her current abilities than she thought.One of Kylie's dilemmas is her conflicting emotions surrounding two very different (and two very HOT) boys, Lucas and Derek. Lucas is a werewolf and Derek is half fae, and both of them have their own sets of swoon-worthy qualities! Kylie gets to spend a lot more time with Lucas during this book and it was nice to uncover a little more about him. But of course, Derek still has a place in Kylie's heart and I must say, I quite like him as well! Sadly, as much as I was so excited for Lucas and Kylie to get together, I later started to have my doubts about their compatibility due to Lucas' incessant not-so-subtle hints about what he wants Kylie to be. But at any rate, it's clear that both Lucas and Derek care deeply for Kylie, and I'll never grow tired of their steamy encounters!As always, I LOVE all of Kylie's friends! They are so supportive and wonderful to her. C.C. Hunter could write spin-off series for every one of these characters and I'd happily read them all! I will never get enough of Della, Miranda, Perry, Holiday and Burnett--they are all so different and awesome in their own ways. Overall I had a blast reading this book, and the ending was equal parts satisfying, frustrating and sad--but we finally discover what Kylie is! I can't wait to read the next book in this series because I'm so excited for the author to elaborate on this new puzzling and exciting information. I'm sure the plot will continue to tempt and surprise me!