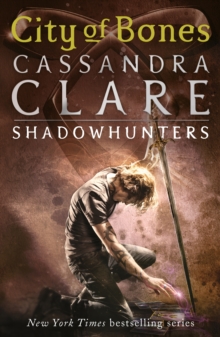 The Mortal Instruments 1: City of Bones
Paperback
Description
First in Cassandra Clare's internationally bestselling Mortal Instruments series about the Shadowhunters.Love.
Blood. Betrayal. Demons. First in the New York Times No. 1 bestselling series that has swept the globe, City of Bones is also a major movie and Shadowhunters, the TV series based on the book, is currently airing on Netflix.
Irresistibly drawn towards a group of demon hunters, Clary encounters the dark side of New York City and the dangers of forbidden love.
This edition contains exclusive bonus content as well as a map and a new foreword by Cassandra Clare.
Read all the sensational books in The Shadowhunter Chronicles: The Mortal Instruments, The Infernal Devices, Tales from the Shadowhunter Academy, The Bane Chronicles, The Dark Artifices, The Last Hours and The Shadowhunter's Codex.
Information
Format: Paperback
Pages: 528 pages
Publisher: Walker Books Ltd
Publication Date: 02/07/2007
Category: Fantasy
ISBN: 9781406307627
Other Formats
EPUB from £3.20
Paperback from £6.89
Hardback from £10.95
PDF from £6.39
Free Home Delivery
on all orders
Pick up orders
from local bookshops
Reviews
Showing 1 - 5 of 15 reviews.
Previous | Next
Review by soliloquies
16/06/2015
A good read, although many plot elements seemed to have been borrowed from other books. The writing was a bit florid in places, but was enjoyable nevertheless.
Review by JessicaLouise23
16/06/2015
Well what can I say about this book that hasn't already been said? I hopped on the wagon very late for this one which isn't like me at all especially when you consider that I've had the complete Mortal Instruments series sitting on my shelf for the past year. Everyone has one of those series that they really want to read but for some reason or another never get around to and the Mortal Instruments series is mine. I think what finally pushed me to read City of Bones was all the hype around Cassandra Clare's latest book Clockwork Angel which is a prequel to this series. I really want to read Clockwork Angel and although they don't have to be read in order I did want to read The Mortal Instruments first just because I'm particular about things like that- I don't want to miss anything and want to read them how there ment to be read. So I forced myself to sit down with City of Bones a few nights ago and after months of putting it off in favour of other books I wish I'd read it sooner…I loved it.The story is set right in the heart of New York City which I loved. Most books that involve supernatural beings take place in the clichéd small quiet town but Cassandra Clare brings the story into a huge modern day city which made the book feel more real to me and more current. I loved the idea of vampires dancing in the hottest night clubs and faeries running around central park. It was very fresh and I loved the thought of sharing our world with these creatures in secret. Most YA books on the market tend to focus on one supernatural species but Clare gives the reader any supernatural creature they can think of werewolves? Sure, witches? you've got it. This makes the world were introduced to very layered and action packed with never a dull moment.Before reading City of Bones I'd read a couple of reviews that said that they found the series badly written but I personally loved the writing style. It's fresh, witty and modern and I found it a breeze to read. Cassandra Clare creates a quirky, funny dialog and the banter between the characters was great. You quickly come to love the characters and my favourite had to be Simon closely followed by Magnus (who I hope there's more of in books to come!) and Jace. I have to admit that I found Clary a little annoying at the start because she was so slow to figure things out that I picked up on chapters ago but as she developed through the book I really began to like her towards the end.The only fault I had with this book was the romance. I just didn't feel it between Clary and Jace and would have liked to have felt a little more chemistry between them then again it is early days so I'm hoping things get more intense in books two and three. I personally love Simon myself but I think ultimately Clary belongs with Jace so I really hope their err "problems" that stop them from being together get resolved in the next books. Not saying too much on that as I don't want to give away a great big stinkin' spoiler! I'd of loved to have given this book 5 stars but I had to knock it down to 4.5 just because whilst the beginning of the book was good it wasn't perfect for me. I didn't think about it when I put it down, I didn't want to read it every spare moment I had at least not until I was half way through when I really started to get into it. It's one of those books that just get's better and better and so I hope that over all this series does the same. If it does I can see it being up on my favourite section of my book shelf before long. Over all highly recommended and I'm very excited to read the next book in the series City of Ashes soon. 4.5 stars.
Review by dreamybanana
16/06/2015
Excellent plot twists and brilliantly written characters, although I found it a little confusing at times. There's so much to take in, all different groups, important people and invented words alongside an intricate plot – it's not always easy to remember which group's on what side when you pick up where you left off. Seeming it's the first book of many, the more you get into the series the less complicated it will become so that's not exactly an issue (especially as it's a brilliant read). However, there were a lot of info-dump scenes, where the characters are just chatting and basically stuffing you with as much information as possible to the point where I started to hope the ceiling would collapse so something exciting would happen for my mind to take a break. Ok, all books need this, and admittedly the plot is complex for a blank slate to just pick up on straight away. Overall, a brilliant teen fantasy, and if that's a genre that you like then this book is perfect for you.
Review by LarissaBookGirl
16/06/2015
In one night Clary saw people who weren't there, witnessed a murder and watched as the dead boys body disappeared. One night later and Clary found herself face to face with the invisible murderer as he saves her from a demon, her mother already gone, and her home no longer safe. It would be three days before Clary would discover where she was and what had happened to her.Clary had never heard her mother speak of her past, indeed it was almost as though her mother didn't start existing until she was born, and Clary knew even less about her father. But all the secrets her mother kept have now left Clary confused and alone. With only the murderous strangers left to turn to will she survive long enough to find her mother and discover the truth?City of Bones brings together the supernatural world in a new and inventive way. Where angels fight demons and half-human being roam our cities; with vampires in nightclubs, werewolves running Chinese restaurants and faeries dancing in Central Park. There are so many twists and turns in this new world to explore to keep you occupied to the very last showdown.
Review by moosenoose
16/06/2015
This is the first book in the Mortal Instruments series and is an urban-fantasy story about Shadowhunters who secretly fight demons and supernatural beings. Demons, Faeries, Vampires – what more could you want?! This has been on my wish list for a while now and I was not disappointed. Supernatural books really grab my attention and let my imagination run wild, something other books generally fail to do. It only took me 2 days to read this as I enjoyed it so much and although the story-line isn't particularly unique and has all the usual characters, it is an attention grabbing, can't put down book. I liked how all the characters fitted together and how at the same time you could both love and hate them. It had the right amount of tension, drama, mystery, romance and laughs to keep me hooked until the end. Speaking of the end, I did not like the outcome (I won't spoil it) and although I could see it coming I was not happy about it. But these series have a way of finding a loop-hole and I am curious to see what happens in the next book, City of Ashes. Favourite Quotes:NEPHILIM: FACSICIL DESCENSUS AVERNI – The descent to Hell is easy."Talk to her, Jocelyn." Luke's voice was firm. "I mean it." He reached for the doorknob. The door flew open. Jocelyn gave a little scream. "Jesus!" Luke exclaimed. "Actually, it's just me," said Simon. "Although I've been told the resemblance is startling."
Also in the The Mortal Instruments series | View all