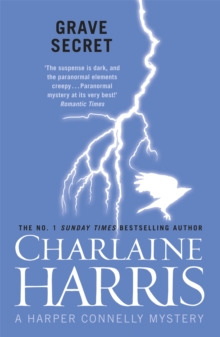 Description
When she was 15, Harper Connelly was struck by a bolt of lightning, which left her with a spiderweb of red over her body, headaches, and episodes of weakness.
Sometimes her right hand shakes. And she can find dead people. It's taken a while, but at last Harper's pretty happy with her life: she's making a living, using her unique talent to help people, and she's got a lover - her stepbrother Tolliver.
That creeps some people out, but though they grew up together, and got each other through the real bad times - their parents' drug-use, the abuse, the disappearance of Harper's elder sister Cameron - they're not blood relatives.
Then Tolliver's dad arrives on the scene, seeking forgiveness for the sins of their youth, and the police get a tip-off that after all these years, Cameron's been spotted in a mall.
With all this going on Harper realises life is getting a little complicated, but she doesn't expect those complications to include Tolliver getting shot, or watching a cop die taking a bullet for her.
Harper can find dead people, but now it's clear someone wants her dead ...
Information
Format: Paperback
Pages: 320 pages
Publisher: Orion Publishing Co
Publication Date: 04/11/2010
Category: Crime & mystery
ISBN: 9780575085565
Other Formats
Hardback from £15.79
CD-Audio from £15.45
EPUB from £4.99
Free Home Delivery
on all orders
Pick up orders
from local bookshops
Reviews
Showing 1 - 2 of 2 reviews.
Review by MikeFinn
16/06/2015
Grave Secret (Harper Connelly, #4)Grave Secret by Charlaine Harris"Grave Secret", concludes the Harper Connelly series of four books.Harper Connelly's struggle to come to terms with her past, make the best of her strange talent and find a place for herself in the future holds these four books together.As the books progress, the balance between focusing on the death Harper Connelly is involved with (she has a talent for being able to find the bodies of the dead and then see their final moments) and her personal history (abusive, drug addicted parents, abducted elder sister, relationship with the man she grew up thinking of as her brother but to whom she is not related) shifts in favour of resolving Harper's own conflicts.The final book has a good who-dunnit plot that gets side-lined by what-happened-to-Harper-and-what-is-she-going-to-do-about-it. I think this was a brave and good decision by Charlaine Harris. Harper's character is what makes these books memorable and sets them apart from other paranormal detective stories.I won't give away the plot, but by the end of the series, I had understood that Charlaine Harris is showing us that real bravery is making the most of the hand your are dealt and real love is about being willing to give everything you have for someone else.I keep going back to the lightning bolt that struck Harper in her teens. This gave her her strange power. It created a bond between her and her not-brother. It set her apart, linking her more intimately to the dead than the living. It weakened her physically and drained her emotionally. At one level, that lightning bolt is a metaphor for all the traumatic events that push young girls into being adults before their time. Harper's story is the story of all those damaged women who choose not to let their circumstances define them, who struggle for dignity and honesty, who crave love but not at any price and who have to come to terms with their past in order to be free to have a future.Throughout the books, Harper has a fantasy of a normal life where she has a house and a garden and doesn't spend her time on the road. This is a life she has never led and one she does not really understood. It reminds me of the Prozorov sisters endlessly dream of going to Moscow to escape the monotony of provincial life in Chekov's "Three Sisters". It is an escape from reality, not an engagement with it.By the fourth book it is clear that what Harper really wants is to be whole. She wants to know what happened to her sister, to know how to be with her not-brother, to be at peace with herself and her family.I think the strength of the Harper Connelly books comes from Harris' decision to write in the first person. We see this world only through Harper's eyes and her vision changes and matures book by book. Harris has a gift for dialogue and she has given Harper a distinct and memorable voice.I recommend all four books. Here's the sequence to read them in: "Grave Sight", "Grave Surprise", "An Ice Cold Grave", "Grave Secret".
Review by shanaqui
16/06/2015
Well that seems kind of final. The last chapter practically tied things up in a bow -- a knot, anyway, harhar. (You'll get my silly joke if you've read it.) So we finally know more about Cameron's death, we have closure on that, we see more of the family, and even Manfred's along for the ride. It felt rushed -- particularly the last half of the book. It should have been hard-hitting emotionally, but it really wasn't.It's kinda sad that having really enjoyed the first couple of books, this series is ultimately so disappointing. I wasn't expecting a lot from it, but still. I did enjoy it as light reading, but I kinda hoped I would end up liking it as a whole more than that.