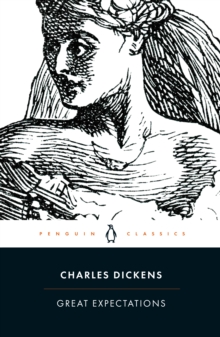 Great Expectations
Paperback
Description
'It was now too late and too far to go back, and I went on. And the mists had all solemnly risen now, and the world lay spread before me� A terrifying encounter with an escaped convict in a graveyard on the wild Kent marshes; a summons to meet the bitter, decaying Miss Havisham and her beautiful, cold-hearted ward Estella; the sudden generosity of a mysterious benefactor � these form a series of events that change the orphaned Pip� s life forever, and he eagerly abandons his humble origins to begin a new life as a gentleman.
Dickens� s haunting late novel depicts Pip� s education and development through adversity as he discovers the true nature of his � great expectations� .This definitive edition uses the text from the first published edition of 1861.
It includes a map of Kent in the early nineteenth century, and appendices on Dickens� s original ending and his working notes, giving readers an illuminating glimpse into the mind of a great novelist at work.
Information
Format: Paperback
Pages: 560 pages
Publisher: Penguin Books Ltd
Publication Date: 30/11/2002
Category: Classic fiction (pre c 1945)
ISBN: 9780141439563
Other Formats
Hardback from £7.45
Paperback from £2.50
CD-Audio from £11.05
Mixed media product from £12.68
Free Home Delivery
on all orders
Pick up orders
from local bookshops
Reviews
Showing 1 - 5 of 30 reviews.
Previous | Next
Review by mattviews
16/06/2015
Probably one of the most memorable Dickens characters, Philip Pirrup is known to most readers as Pip, the 7-year-old boy whom his short-tempered sister raised by hand. Little Pip infers that he has sustained, from as early as his babyhood, a perpetual conflict with injustice. He has known, from the time when he can speak and discern his surrounding that his sister, in her fits of caprice and violent coercion, is unjust to him. It seems to poor Pip that all the endearments in life brushes by him or bypasses him altogether. Fate has ineluctably deprived him of the lightsome hours that make our childhood a time to be remembered like a happy dream through all our after life. The bright side of growing up with his sister's fits of spleen is Pip's friendship with his brother-in-law Joe, who not only has taken him into apprenticeship but sanctified the house Pip calls home that is otherwise sullied by his sister's temper. A chance but terrifying encounter with an escaped convict for whom he brings provisions pilfered from the kitchen cupboard changes the entire course Pip's life. But it is not until he meets the beautiful, cold-hearted and haughty Estella during a summon to a decaying Miss Havisham that he sets his mind to whittle away his coarseness and to become a gentleman, one on Estella's account. The sudden but timely generosity of a mysterious benefactor comes to assist his making of a gentleman and promises a handsome property. The prospect of great expectations not only immediately relieves him from his ordinary sphere of life and frees him from apprenticeship with Joe, but also concurs with his eagerness to abandon his humble origins. GREAT EXPECTATIONS thus follows Pip's new life under his fortune and depicts his education, new relationships, and development through adversity as he slowly dawns on the true nature of his great expectations. The new life does not come without a catch as he finds himself living in a state of chronic uneasiness respecting his perfidious behavior to Joe, whose interference in his life he now regards as disturbance. The more Pip basks in the favor, privilege, and conviviality that is concomitant of his fortune, the more his is convinced of a happier life derived from simplicity and fidelity that only Joe can offer. As he sidles closer to the truth about his benefactor's identity, a revelation for which he is not prepared struck him. GREAT EXPECTATIONS is a story of moral redemption with a prodigal son-like protagonist in the orphaned Pip. The tale is extremely straightforward but is woven with substantial issues he has to deal with. Eager to shred his humble roots, he promptly disavows family and friends at the prospect of a fortune. As the fortune loses its luster and eventually dissipates altogether, he confronts his own ingratitude and learns to love the man who both creates and destroys him, figuratively speaking. Dickens deftly validates Pip's redemption by showing that it produces good deeds as well as good works. This is especially worthy of merit because the novel is told in Pip's first person narrative. Mishandling of the narrative might render the whole tale unconvincing. The proof of Pip's redemption comes laden with good deeds rather than airy words: his clandestine acts of kindness in securing Herbert a partnership in business, and in securing Miss Havisham's respectable opinion of the long-suffering Matthew Pocket, and in his refusing to accept money from Miss Havisham, and most significantly in his love for the man whom has bequeathed him with the fortune.
Review by dbsav
16/06/2015
I chose to write a review of Great Expectations because I wanted to be able to rate a novel "five-stars" without an ounce of hesitation.Context: I'm not by any means some sort of an intellect. Like many people who have read Great Expectations, I was assigned this book in high school. I remember looking to the end of the book, first, to see how many pages there were. I cringed. Then I began to read that first chapter about a boy named Pip who meets the convict looking for vittles.I won't give anything away about the plot. I only want to say that this was the first book that I ever read that I had me truly absorbed. I remember a kid in my class who read ahead a few chapters and had us all in wonder as to what twists transpired. He just smiled and said, "you won't believe how this thing turns out."After reading other Dickens books I realized that his greatest strengths was populating his books with amazing, odd, likeable, and despicable characters who found there way in and out of his stories.If you haven't read this book, do so.
Review by Smiley
16/06/2015
Review by schmal06
16/06/2015
I liked the story but I found it very difficult to get through. (I was 14 when I read it and that might have something to do with it). I have faith upon rereading it, i will enjoy it more. I find Dickens' writing to be very very drawn out but at the same time quirky and distinct and his characters are wonderful. I didn't love it, but I would recommend it.
Review by sedelia
16/06/2015
Of all the works I have read by Dickens so far, Great Expectations is the best, hands down. The plot is interesting -- Pip falls in love with Estella when they are very young and develops "expectations" to be a gentleman so he can be worthy of her. Later on, he gets a sponsor who pays for him to become a gentleman. It's a typical coming of age story, focusing on Pip's growth and development and his realizations about the mistakes he's made in life. What makes this novel extraordinary is the characters. Each of them is complex and multi-dimensional, with full backgrounds and oddities that make them unique. Pip's brother-in-law Joe is by far one of my favorite characters of all time. Because the characterization is incredible, I was completely involved with this story, my emotions changing along with the novel's progression.I'm not a fan of the tacked-on ending. All the characters got what they deserved, which I appreciated, but the last chapter felt especially rushed. However, the pacing for the rest of the novel was perfect, so I would say that this is a minor complaint.If it hadn't been for Jarvis's narration, I don't think I would have given Great Expectations five stars. Jarvis's impressions of all the characters (especially Joe) really brought this novel to life for me. The personality and emotion he put into his performance made the funny parts funnier and the sad parts sadder. It's a bit on the long side for an audiobook, but I would definitely recommend listening to this rendition of Great Expectations.