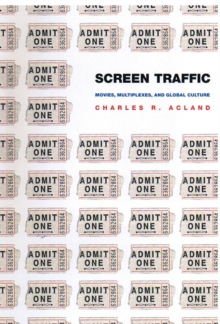 Screen Traffic : Movies, Multiplexes, and Global Culture
Paperback / softback
Description
In Screen Traffic, Charles R. Acland examines how, since the mid-1980s, the U.S. commercial movie business has altered conceptions of moviegoing both within the industry and among audiences.
He shows how studios, in their increasing reliance on revenues from international audiences and from the ancillary markets of television, videotape, DVD, and pay-per-view, have cultivated an understanding of their commodities as mutating global products.
Consequently, the cultural practice of moviegoing has changed significantly, as has the place of the cinema in relation to other sites of leisure.Integrating film and cultural theory with close analysis of promotional materials, entertainment news, trade publications, and economic reports, Acland presents an array of evidence for the new understanding of movies and moviegoing that has developed within popular culture and the entertainment industry.
In particular, he dissects a key development: the rise of the megaplex, characterized by large auditoriums, plentiful screens, and consumer activities other than film viewing.
He traces its genesis from the re-entry of studios into the movie exhibition business in 1986 through 1998, when reports of the economic destabilization of exhibition began to surface, just as the rise of so-called e-cinema signaled another wave of change.
Documenting the current tendency toward an accelerated cinema culture, one that appears to arrive simultaneously for everyone, everywhere, Screen Traffic unearths and critiques the corporate and cultural forces contributing to the "felt internationalism" of our global era.
Information
Format: Paperback / softback
Pages: 352 pages, 16 illus., 34 tables
Publisher: Duke University Press
Publication Date: 13/11/2003
Category: Films, cinema
ISBN: 9780822331636